Standing room only for many into Paddington
Related Links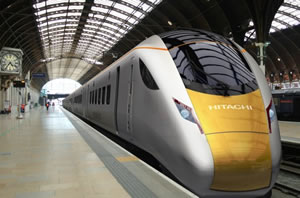 HiSpeed train due to be introduced on line through Ealing
Participate
Comment on this story on the forum
Trains through Southall, Hanwell, Ealing and Acton en route to Paddington are amongst the most crowded in England and Wales according to The Department for Transport (DfT).
The DfT has released its figures for 2014 and top of the list (pdf) is a train originating in Scotland, the 04:22 TransPennine Express service from Glasgow Central to Manchester Airport.
However, in third, fourth and fifth places are trains that travel through west London, from Reading or Heathrow and are run by First Great Western and Heathrow Connect.
First Great Western says it recognises the 6.31am service is crowded and has enhanced the capacity by declassifying First Class on the Class 165. This will add an extra 16 Standard Class seats on this service.
And on the 7.02 FGW has added 16 extra standard class seats to all its Class 165 turbo trains by declassifying First Class. This will add an extra 32 seats to this particular service to alleviate crowding. First Great Western is also adding another carriage to the 0709 service between Reading and London Paddington to further enhance capacity from December 2015.
10 Most Crowded Trains 2014

1

04:22 Glasgow Central to Manchester Airport

2

16:00 Manchester Airport to Edinburgh

3
06:31 Reading to London Paddington (279 passengers in excess of its capacity of 367 *)
4
07:57 London Heathrow to London Paddington ( 338 passengers in excess of its capacity of 476 *)
5
07:02 Reading to London Paddington ( 381 passengers in excess of its capacity of 596 *)
6

06:35 Caterham to Victoria Central

7

07:24 Brighton to Bedford

8

18:00 Manchester Airport to Edinburgh

9

07:32 Woking to London Waterloo

10

07:02 Woking to London Waterloo
* Numbers on board were counted at Ealing Broadway
The 7.57 Heathrow Connect service is currently running with the maximum number of carriages. Options are currently being explored to enhance the infrastructure between Hayes & Harlington and London Paddington, to enable First Great Western to provide additional capacity to alleviate crowding on this route between these stations.
Rail union the RMT has slammed the figures, RMT General Secretary Mick Cash said, "Today's rail overcrowding figures are a national disgrace. While much of the focus is on London some of the most overcrowded services are travelling from the North – an area where the attack on jobs and services from shelved investments and the threat to guards is at its sharpest.
"No part of the country is immune from this scandal while the private rail rolling-stock companies are laughing all the way to the bank.
"The case for retaining guards, reversing cuts and moving to a publicly-owned railway run in the public interest is now overwhelming."
Rail Minister Claire Perry said, '' "I know how frustrated customers are with overcrowding, and I expect the rail industry, including operators, to continue to develop innovative proposals to meet the capacity challenge head on.
"We are investing £38bn in the railways for the five years until 2019, underpinned by flagship schemes like the Intercity Express and Thameslink programmes to provide more space and more seats on trains."
9th September 2015