Prime Minister and London Mayor in Ealing
Related Links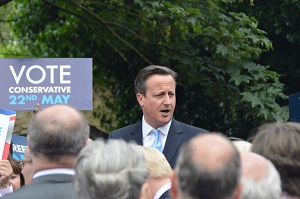 Participate
Comment on this story on the forum
On the eve of the local and European elections the Conservatives have rolled out their big guns in Ealing.
David Cameron and Boris Johnson have been here to endorse the Conservatives campaign to regain control of Ealing Council.
In keeping with the common trend for 'selfies' local MP Angie Bray tweeted a photo and said:
'' Great to welcome Dave and Boris to Ealing Central and Acton for a rally of the troops.''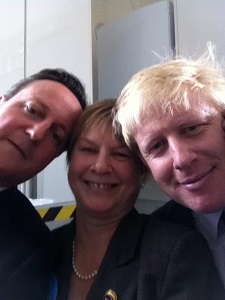 Councillor David Millican, Ealing Conservative Leader said:

"It was great to have such support from the Prime Minister and the Mayor of London when they came to Ealing on the final election stop before tomorrow's vote. We've fought a strong campaign for a cleaner borough, with fairer charges, which serves the people.
"We ask the people of Ealing Borough to back the Conservatives so that we can once again serve the people and ensure rubbish is collected properly, footpaths and roads are maintained and the Town Hall is focussed on needs of residents and not itself. We see a bright future for Ealing.
With support from the residents of the Borough we can make it happen."
Meanwhile former Ealing Councillor, now Shadow Secretary for Communities and Local Government, Hilary Benn, has been lending his support to the Labour Party candidates.
The MP was back in Ealing for a spot of canvassing in his former Walpole Ward.
Binda Rai, who is the Labour candidate for Walpole, together with Gareth Shaw and Paul Conlan, said it was great to have him back: "Hilary was greeted with such warmth and sincerity by the residents he met during the canvassing session and they clearly remember what an excellent representative he was for them during his time as Councillor for Walpole".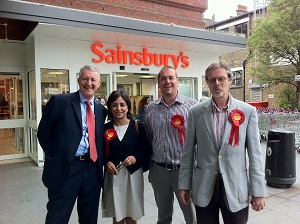 See all candidates for Walpole Ward
21st May 2014