Consultation underway over additional Turnham Green stop
Related Links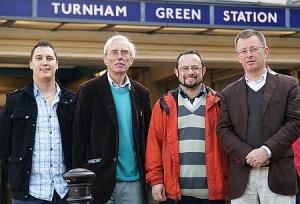 Lib Dem Councillors
Participate
Comment on this story on the forum
Transport For London (TfL) has agreed to a consultation on additional regular day time stops on the Piccadilly Line at Turnham Green station.
The Chiswick stop (between Hammersmith and Acton Town) has frustrated locals who have only been able to board Piccadilly trains at non peak times.
Piccadilly line trains currently stop at Turnham Green in the morning from the first train until 06:50 Monday to Saturday / 07:45 on Sunday, and every evening from 22:30 until the last train.
Local residents and politicians have been campaigning for over thirty years for a more regular daytime service.
TfL have now agreed to a consultation and will be seeking opinion from all interested parties - including current Piccadilly line customers.
Lib Dems in the Southfield ward are encouraging everyone to take part.
The web link to access the survey is: https://consultations.tfl.gov.uk/tube/piccadillyline
Councillor Gary Malcolm said: "The Liberal Democrat Southfield councillors are glad that we have persuaded Transport for London (TfL) to conduct a consultation. It is now absolutely crucial that Southfield residents tell TfL that they need the Piccadilly Line to stop 7 days a week, and at peak and non peak time. Like a dog with a bone we will keep pressing until this happens."
Northfields Councillor and Ealing's Conservative Group Leader David Millican says:
'' Clearly an extra train stop at Turnham Green will benefit residents in Southfields and Bedford Park. As Conservative Group Leader I take a broad view for the best benefit for all residents across the borough.''
Whilst many are campaigning actively for the Turnham Green extension, there are fears that an additional stop on an already packed line could cause more problems for commuters.
The consultation runs until 7th October.
What do you think? Can Piccadilly line trains cope with more commuters?
Discuss on the forum.
August 27th 2013