Related links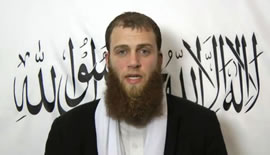 Richard Dart aka Salahuddin Al Britani
One of the six people arrested yesterday (4th July) has been named as Richard Dart. He was detained on an Ealing street. The 29 year old white Muslim convert had appeared last year in a video using the name Salahuddin Al Britani vowing to disrupt the wedding of Prince William and Kate Middleton.
Dart appeared on a Channel 4 documentary 'My Brother The Islamist' in which he criticised the UK and claimed to be living rent free. He is reported to have previously worked as a security guard at the BBC.
It is understood the arrests relate to a possible plot involving Islamist extremists, with potential UK targets.
In total 6 people have been arrested including a 21-year-old man and a 30-year-old woman, who were detained at separate addresses in Ealing. Exact locations haven't been released.
Three other men, aged 18, 24 and 26, were detained in Newham, east London, during the operation by armed police. One of them is reported to have served as a Police Community Support Officer.
The 24-year-old man was tasered during his arrest but was not taken for hospital treatment.
Security sources are describing the arrests as "significant." Some - if not all - of those arrested on suspicion of the commission, preparation or instigation of acts of terrorism are British nationals, the BBC says.
All six arrested have been taken to a police station in south-east London.
The arrests are not linked to the Olympics or Paralympics, police added.
July 6, 2012