Demetri gets his new racket
Related Links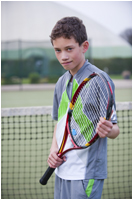 Participate
Comment on this story on the forum
Thanks to the generosity of Ealing Today and ActonW3 members a would-be Wimbledon champ will have a new racket for his latest tournament.
Eleven year old Demetri Smith has been playing since he was four and will be representing Ealing in the London Youth Games on Saturday (11th June).
Unfortunately his expensive rackets broke and Demetri asked on his blog if anyone could help him with new ones.
Because of the publicity a woman from West Acton (who wishes to remain anonymous) contacted the tennis crazy lad and offered to help buy him a new racket.
Demetri is delighted, he says: '' A very kind lady gave me some money towards a new racket this evening. Thank you very much! Now I can concentrate with my match this weekend at The London Youth Games representing Ealing.''
9th June 2011