From May trained officers will be able to use them
Related Links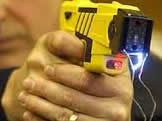 Participate
Comment on this story on the forum
Tasers - electronic stun guns - are coming to Ealing.
A meeting last night at Ealing Town Hall heard that from May, local police will be able to deploy Taser equipped vehicles to respond to emergency calls.
Tasers use an electrical current to disrupt control of muscles and cause temporary incapacitation.
It's one of a number of actionable commitments that have to be delivered as part of the Commissioner's model of Total Policing.
The MPS began a gradual rollout of Taser to all London Boroughs last year, so that each borough will have two equipped vehicles available to respond to violent incidents - in addition to the support that Territorial Support Group and CO19 Firearms units provide .
Boroughs, such as Bromley, Kingston and Enfield are already in a position whereby they have Taser equipped vehicles on patrol 24/7.
Ealing will have forty officers specially trained in the use of Taser and at any one time - they will have to pass eye and fitness tests. A maximum of four officers will be on patrol in two vehicles.
Police say the Taser is recognised as a highly effective additional officer safety tool. It uses a relatively low degree of physical force thereby reducing the risk of injury to an individual whilst enhancing its use within the MPS.
The greater availability and use of Taser will also improve officer safety as it provides the user a distance control measure when dealing with violence or threats of violence.
Taser company CEO Rick Smith has stated that police surveys show that globally the device has saved 75,000 lives, however it's not without controversy and Taser has also been implicated in instances of serious injury or death.
14th March 2013