Monday morning uprooted trees and travel disruption
Related Links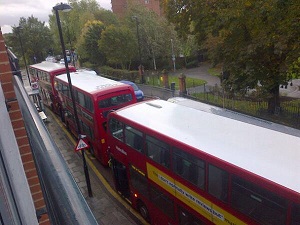 Buses backing up on Uxbridge Road from @sylviesturrock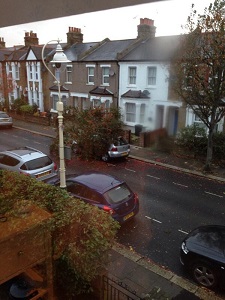 Lothair Road from @Katiecola1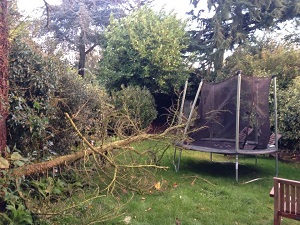 Garden damage in Acton at 7am (from Sophie de Parthenay)
if you have any images of damage caused by the storm splease send via twitter or to editor@ealingtoday.co.uk or editor@actonw3.com
Participate
Comment on this story on the forum
The much heralded storm hit the Ealing area early this morning (Monday 28th October) with winds of up to 70mph.
London Ambulance Service say a tree fell onto a van on Gunnersbury Avenue, W5 just before 6.40am. An ambulance crew and responder in a car attended and treated a man in his 50s, who was conscious.

He was complaining of back pain, and was immobilised using a board and neck collar before being taken to St Mary's Hospital on blue lights.
Shortly after this incident another man was hurt in Southall. A 29-year-old was hit by a tree near the junction of Norwood Road and King Street just before 6.45am. He was conscious and attended by an ambulance crew and a responder in a car and treated for head, chest and foot injuries before being taken to Ealing Hospital.
The weather has caused chaos throughout the area which has been widely reported on social media. Various main roads (including Gunnersbury Avenue, top of Northfields Avenue, Argyle Road) were closed due to falling trees, buses diverted and trains cancelled.
Twitter has been filled with images of trees down throughout the local area:
This one near Hanwell station from @catherine2009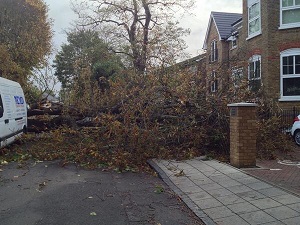 Below, a near miss on Altenburg Avenue from @JamieSpencr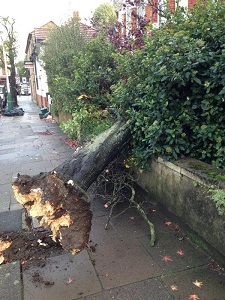 Not surprisingly the parks were hit - several trees were affected at the Bunny Park and damage at Lammas as pictured below from @kaycareers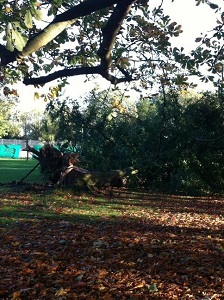 Ealing Council say '' Clean-up crews out across the borough dealing with fallen trees, priority is being given to any that cd be dangerous or blocking roads. Refuse and recycling crews are out but may be delayed. Street cleaners have been sent to help clear storm debris.''
The emergency services have been responding to a number of storm-related incidents since 6am this morning.
Falling trees, damaged buildings and drivers injured are just some of the emergency calls received as the high winds hit the capital.
Deputy Director of Operations from London Ambulance Service (LAS) Peter McKenna said: "It is proving to be a busy morning for us for storm-related injuries. We would encourage anyone to consider if their journey is entirely necessary."
TfL urges road users to take extra care, and all road and public transport users are advised to check for the latest updates before travelling with service providers and the Met Office.
You can follow the latest developments at the Twitter account TfL Traffic News.
And South West Trains have told people not to travel all day if possible. They are warning that a much reduced service will operate.
The Mayor of London's office has set up a web page called London Resilience offering advice on preparing for the storm, and you can also follow its up to the minute advice on Twitter at London_Prepared.
The Metropolitan Police Service is reminding Londoners to dial 101 when contacting police when it's not an emergency with expected increases in demand brought about by high winds.
The Met adds that calling 999 when it is not an emergency can reduce can our effectiveness at dealing with genuine emergencies.
Three Twitter accounts have also been set up at #stormuk, #ukstorm and #storm13.
28th October 2013