After claims that they're being used to target properties for burglaries
Related Links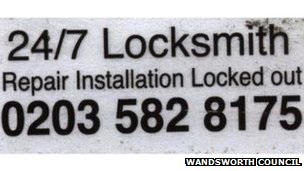 Participate
Comment on this story on the forum
The Metropolitan Police say they've received a number of calls from the public concerned after finding bogus stickers on their properties.
It follows a warning from Wandsworth Council that stickers supposedly promoting a locksmith business aren't real and may be being used by burglars to target local homes.
Since the news appeared residents in Ealing and Acton (Stuart Road and Meon Road) have reported seeing stickers on properties in the area.
Ealing Today forum members (from the Ealing Common ward) have also sent details of the stickers below appearing on their properties - but say they were 'stuck firmly to the inner letter slot flap where the resident would not normally see it'.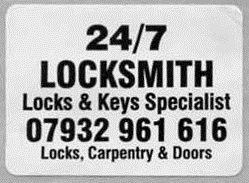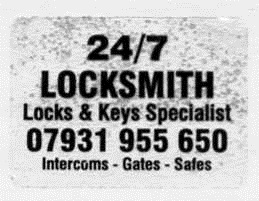 The Metropolitan Police say:
''We are aware of stickers giving details for a locksmith being left on a number of properties across London. The telephone number given does not connect.
''We have received a number of calls from members of the public reporting such stickers and are working to establish exactly where the stickers have been found and if they are linked to any burglaries.
''At this stage we are only aware of one burglary, in Wandsworth, that has taken place at a property that has a sticker.
''However, we cannot confirm the property was burgled because it had a sticker.''
Police urge residents to be vigilant and report any sightings of stickers to their Safer Neighbourhood Team.
Contact details can be found at www.met.police.uk.
Please do not dial 101 and only call 999 in an emergency.
A range of crime prevention advice is also available on the MPS website.
20th November 2013