Claire Allan helped England achieve rugby victory
Related Links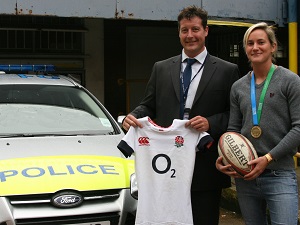 Participate
Comment on this story on the forum
Tackling criminals and tackling a ball, an Ealing police officer has just proven she is adept at both.
PC Claire Allan has just returned to work in the borough after the excitement of winning the Women's Rugby World Cup held at the Jean Bouin Stadium in Paris on Sunday, 17 August.
Claire was one of 26 players selected to represent England making it through to the final where they beat Canada with a victorious score of 21-9 to win the cup.

Claire joined the MPS in 2008 after studying Sport and Exercise at Loughborough University. She is currently assigned to Ealing's Proactive Team and manages to juggle her career with the long training sessions required to meet the standards of a world class rugby player.
Claire, who is still on a high after the tournament said:
"Winning a World Cup has always been my dream and I still can't quite believe we did it! I cannot thank Ealing borough enough for the support they have given me throughout our World Cup campaign. Especially my line manager Detective Sergeant Jo Rajkovic and fellow work mates, who I couldn't have done it without. I feel very fortunate to have been supported so well by my employers."

Borough Commander Nev Nolan said:
"As a rugby coach myself, I understand the hard work and dedication that Claire has put in, in her own time, to reach the highest standards of the game on a national level, which is all the more impressive, as she is a full time thief taker who has demonstrated her tackling abilities on unsuspecting villains to their cost.

''I would like to congratulate Claire on her success and we are all extremely proud of her here at Ealing. The ladies team has certainly set the bar for the men's world cup next year."

Detective Chief Inspector Sean Yates, (pictured above with Claire) said:
"Claire's tenacious efforts both as a police officer serving the community of Ealing on a daily basis and on the field of play is testament to her character. Claire's dedication has been rightly rewarded with the ultimate sporting achievement and we are rightly very proud to have a rugby world cup winner in our ranks. "
27th August 2014