Funding found to fix the worst roads in the borough
Related Links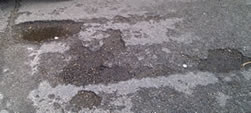 Participate
Comment on this story on the forum
Dane Road in Southall (from Spikes Bridge to Uxbridge) has been deemed to be in the worst condition of all of the borough's roads and has secured funding for resurfacing work.
A survey of all the roads and footpaths in the borough is carried out every year.
Surveyors walk the entire length of the road network looking for defects such as potholes, cracking, and other signs of deterioration and damage.
Each road is then given a condition rating on a scale of 1-100. Those with a low rating are in the best condition. Those with a high rating are in the poorest condition and are targeted for resurfacing. Dane Road is rated at 100.
This year, the council will spend £3.5million. In addition, Transport for London has contributed £935,000 to tackle defects on major roads in the borough. Of the Ealing Council funding, £3million will be spent on renewing roads and £500,000 on footways.
The full list of roads and footways scheduled for improvement in 2015/16 is here.
The council says it works very hard to co-ordinate resurfacing works with other work carried out by utilities companies, but on the rare occasions where there is a clash with major works, resurfacing works will be postponed until the first subsequent opportunity.
Keith Townsend, executive director of environment and customer services, said: "We are working hard to make Ealing a cycle-friendly borough and the state of our roads is particularly important for people on bikes. Uneven roads can make it dangerous and unpleasant for cyclists, discouraging them from using certain routes or even from riding altogether.
"Good roads and pavements are also important for pedestrians and motorists. That is why, despite the massive financial pressures we are facing, we are continuing to invest substantial amounts of money to keep our roads and pavements in good condition."
The decision was made by the council's cabinet on Tuesday, 21 April. All cabinet decisions are subject to call-in for a period of five working days from the date of publication of the minutes of the meeting. See the areas which will benefit here
29th April 2015