Father Gostomski was killed alongside President
Related Links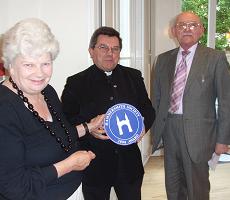 Father Bronislaw Gostomski receiving the Hammersmith Soceity Award in May 2008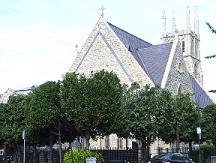 St Andrew Bobola Church
Sign up for our free newsletter
Comment on this story on the forum
Ealing's Polish community has been mourning the victims of Saturday's Russian plane crash - which included a much loved local parish priest, Rev Canon Bronislaw Gostomski.
Father Gostomski of St Andrew Bobola Church in Leysfield Road, Shepherds Bush was among 96 people who died in the tragedy, including Polish President Lech Kaczynski and his wife, and many of the country's top statesmen and officials.
Father Gostomski was the president's personal chaplain and had served at the W12 church for eight years.
His colleague, Father Marek Reczek, told the BBC: "It is a very difficult time for our parishioners. Many of them have been coming into the church to pray. They have been crying,"he said. In a BBC report, some parishoners broke down as they paid tribute to the popular priest.
Today the church's website is inviting all parishioners and friends of Father Gostomski to attend a Prayer Vigil with masses taking place throughout the day.
People are also invited join prayers from Monday until Thursday April 15, when a funeral mass will take place at 7pm.
Many people have been paying their respects at Ealing's Polish Roman Catholic Church on Windsor Road.
Meanwhile, the Polish Cultural Institute in London said there would be a week of mourning:
"It is with heavy hearts that we mourn the loss of our nation's President, Mr. Lech Kaczynski, in the company of his gracious wife and the many statespersons who have perished along with him.
"According to the appropriate protocol of State, all government institutions will commence a week long period of mourning through which we pay tribute to the exceptional individuals that we have lost. As such, all previously scheduled activities of the Polish Cultural Institute have been suspended or cancelled where delay is not possible. While this inconvenience is most regrettable we are confident that you will join with us in solidarity as we remember those lives that have passed before us."
April 11, 2010