Election rival urges MP to to back Private Members' Bill
Related Links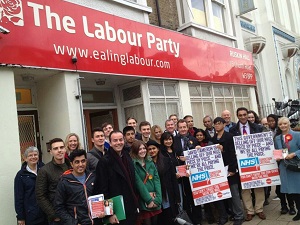 Participate
Comment on this story on the forum
Labour's Prospective Parliamentary Candidate for Ealing Central and Acton, Rupa Huq, has challenged the current Conservative MP, Angie Bray, over the NHS.
All 38 Labour candidates in London seats currently held by Tory and Lib Dem MPs have signed an open letter asking them to support Clive Efford's bill on privatisation in the NHS which will be debated tomorrow (Friday).
In what's likely to be a central campaigning issue in the run-up to next year's General Election, Ms Huq has written to Ms Bray urging her to back Labour in the forthcoming vote.
Labour has already said it will repeal the Coalition Government's Health and
Social Care Bill if it wins the General Election in May 2015.
The Private Members' Bill on 21st November calls on the Government to 'to stop the further privatisation of the NHS, restore the legal duty of the Secretary of State for Health to provide National Health Services and amend the Health and Social Care Act 2012, to remove controversial competition requirements.'
Ms Huq writes: '' We've seen disarray among patients and staff. The trust running our hospitals in and around Ealing has the worst waiting times in the country. Figures also show that in Ealing one in five patients now have to wait at least seven days to see their GP.
''Clive Efford's Private Members' Bill in the House of Commons on 21st November, is a
direct opportunity to show if you support the Government's agenda for further damaging
privatisation, or support the founding principles of the NHS, where patients are put
before profit....As we head to the 2015 General Election, local people in Ealing deserve to know which side of the argument you are on.''
Ms Bray says she will do her best to attend the vote on Friday.
18th November 2014