Dead mouse found in one supermarket
Related Links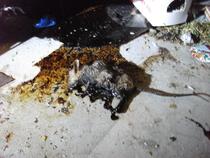 Officers found a dead mouse on the store room floor of Al Rafidain supermarket

Participate
Comment on this story on the forum
Ealing Council has taken legal action against five mouse infested businesses following food hygiene inspections in July and August.
Last Thursday (5 September), Ealing Magistrates Court ratified the council's decision to serve hygiene emergency prohibition notices on the five businesses. The notices meant businesses were closed immediately after inspections, and could only reopen when officers were satisfied extensive cleaning and pest control had taken place.
Yeraz, 3 Station Buildings, Uxbridge Road, Ealing was closed after food safety officers saw a live mouse and mouse droppings in the kitchen during an inspection on 14 August 2013. Officers inspected the takeaway following a complaint by a member of the public. The court ordered the owner of Yeraz to pay council costs of £521.31.
Another Ealing takeaway, Chris' Fish and Chips, 40 The Broadway, was closed after officers found gnawed potatoes and rat droppings, as well as dirty food containers, during an inspection on 25 July 2013. The business reopened on 9 August 2013, and was ordered by the court to pay £544.52 towards the council's costs.
A third takeaway, Al Jazeera, 88 Broadway, West Ealing, was closed on 19 July 2013 after officers found a bag of rice that had been gnawed open, and mouse droppings in the kitchen and on food containers and cutlery boxes. The court ordered the owner to pay £544.09 towards the council's costs.
An Acton supermarket, Al-Rafidain, 140 Churchfield Road, was closed on 15 July 2013 after officers saw a dead mouse on the basement floor, and gnawed biscuits and pasta for sale on the store's shelves. Officers also found flies swarming around meat for sale, and sacks of rice covered in mouse droppings. The store reopened on 19 July 2013, and was ordered to pay £614.28 towards the council's costs.
The fifth business, Palm Palace, 80 South Road, Southall, was closed on 29 July 2013 after officers found mouse droppings throughout the restaurant and outhouse, including on kitchen equipment, plates and in food packaging. There was also a build-up of grease and food debris in the kitchen. In court, the owner was ordered to pay £715.16 towards the council's costs.
Councillor Ranjit Dheer, cabinet member for community services and safety, said; "These were revolting examples of poor food hygiene, which put the public's health at risk. We won't hesitate to take swift action to protect the community from dangerous practices, and encourage people to help us by reporting any concerns they have about food hygiene in the borough."
Anyone concerned that a business is breaching food hygiene regulations should contact the council's food safety team on 020 8825 6666, or via email at foodsafety@ealing.gov.uk.
Go to the Food Standard Agency's website to check the hygiene rating of any food business in the borough.
11th September 2013