Ed Miliband visits Ealing prior to announcing housing initiative
Related Links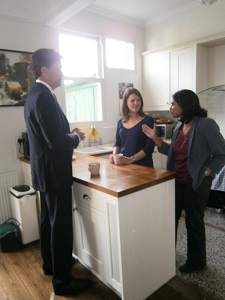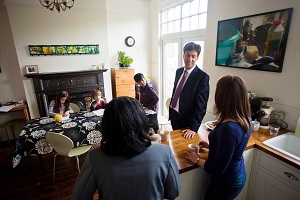 Participate
Comment on this story on the forum
The Labour leader, Ed Miliband, visited Ealing just before launching the party's policy on private rent increases.
He met parliamentary candidate for Ealing Central and Acton, Dr Rupa Huq, and a local family living in the private rented sector.
Labour announced they would to cap rent increases in the private sector and scrap letting fees to estate agents to give a "fairer deal" to tenants. Mr Miliband has also called for longer, securer tenancies.
The party say nine million people are living in rented homes today, over a million families, and over two million children - with many tenants in Ealing and elsewhere facing 'rip-off' fees from lettings agents and insecure tenancies.
Labour's parliamentary candidate Dr Rupa Huq, who lives in South Ealing, said:
"As a lifelong Ealing resident I've seen first-hand how 'generation rent' is now becoming the norm for many who'd dearly love to buy. 16,225 out of 48,939 households in Ealing Central are private renters; that's bigger than the number in social housing in the constituency".
"It's scandalous that people in Ealing who cannot afford to get on the property ladder are given no protection when they rent and get charged £350 on average by estate agents. That's a lot of money for people, which is why Labour will legislate to ban these rip-off charges by letting agents."
Conservative Party chairman Grant Shapps said the Labour plan was a "short-term gimmick" and accused the opposition of "political tampering".
"The only way to raise people's living standards is to grow the economy, cut people's taxes and create more jobs. We have a long-term economic plan to do that, Ed Miliband doesn't."
May 6th 2014