Collection of antique jewellery and medals found after road accident
Related Links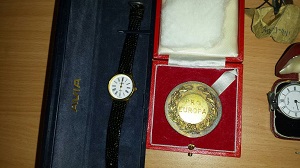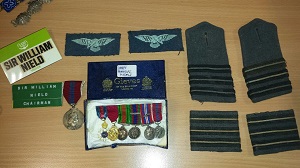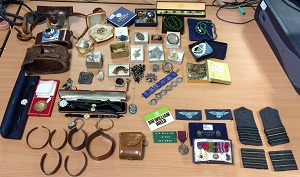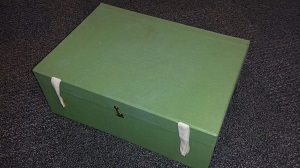 Participate
Comment on this story on the forum
Police have released images of items believed stolen, including war memorabilia and jewellery after two men were arrested at the scene of road accident in Greenford.
Police were called at 00:32 hrs on Sunday, 12 April to an overturned vehicle on Horsenden Lane.
Witnesses reported that the car appeared to lose control, skid off the road and ended up on its side in a ditch. The driver got out and was sitting nearby when police arrived. London Ambulance Service treated a second man at the scene before taking him to Ealing hospital as a precaution.
Witnesses said they saw the driver discard something in nearby bushes and when officers carried out a search they found a box filled with various items including antique jewellery and war medals.
A 30-year-old man was arrested on suspicion of drinking and driving and handling stolen goods.
A 31-year-old man was arrested on suspicion of handling stolen goods. Both men have been bailed to a date in May pending further enquiries.
Officers have released images of the medals and antique jewellery which will be of huge sentimental value to the owner, in the hope that they come forward.
If you recognise any of these items or know who they may belong to, please contact PC Nabi Chentouf of Ealing Police on 101.
20th April 2015