Details of service taking place tomorrow
The funeral will take place tomorrow of Ealing's Millennium Mayoress, Joan Portwood who died at the age of 90.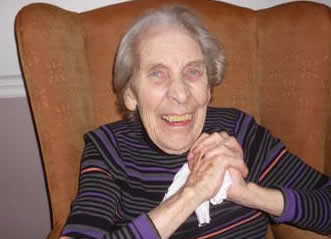 Joan Gwladys Portwood
1922 - 2013
Funeral Day Arrangements
Friday 22nd March 2013
Cortege leaves at 12 noon from 58 St Andrews Road, East Acton W3 7NF
Funeral at 1.00 pm at the Acton Hill Methodist and URC Church, 269 High Street, Acton W3 3BU
Cremation at 2.40 pm at the Mortlake Crematorium,
Townend Road TW9 4EN
Reception after funeral at the George and Dragon (Acton's historic coaching inn), 183 High Street, Acton W3 9DJ

Phil Portwood writes:
Mum's funeral will be on the 22nd March. We have decided that we will only have family flowers at the funeral, but that those wishing to make a donation in Mum's memory do so to the Pre-School Learning Alliance charity. Under its previous name of the Pre-School Playgroups Association, the PSLA (PPA) was one of the greatest of the many causes in Mum's life. Such donations can be sent to Philip, given privately at the funeral, or donated online nationally.
We would also be grateful, for planning purposes, if you could let us know if you are intending to come to the funeral, the cremation and/or the reception afterwards.
Can we finally warmly thank all the many of you who have contacted us over the last few weeks to give your support, condolences and memories of Mum. They all mean a lot to us.
e-mail: mum@east-acton.com
21st March 2013