Ealing Council Leader will 'chain himself' to gates to prevent bulldozers
Related Links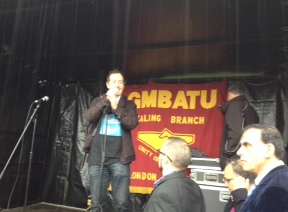 Julian Bell speaking at rally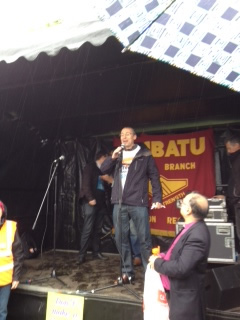 Hammersmith and Fulham MP Andy Slaughter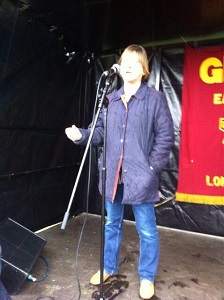 Ealing Central Acton Conservative MP, Angie Bray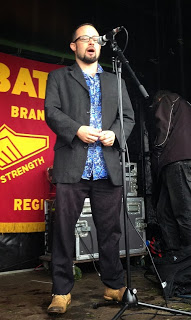 Lib Dem group leader Cllr Gary Malcolm
Participate
Comment on this story on the forum
Close on a hundred people turned out in torrential rain this morning (18/10) to attend the rally in Brent Meadow, Uxbridge Road to support the fight to protect Ealing – and other west London – hospitals' A&E departments.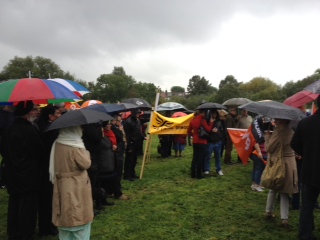 The A&E services at Charing Cross, Central Middlesex, Hammersmith and Ealing hospitals are threatened with closure after a decision in February by a Joint Committee of NHS Primary Care Trusts.
Ealing Council leader, Julian Bell, spoke of his devastation and anger at the recent rejection for judicial review saying it was based on "inaccuracies and downright lies".
He spoke of the upcoming decision on the Hospitals' future by Health Secretary Jeremy Hunt – which is expected in a week or so - but vowed that whatever that decision is, he and others would fight on, and if necessary "chain ourselves to the gates before they roll the bulldozers in".
There were representatives from across the political spectrum - Ealing Council Lib Dem group leader Cllr Gary Malcolm as well as M.Ps Andrew Slaughter (Labour) and Angie Bray (Conservative) all spoke – promising the crowd that all Ealing representatives in the House of Commons would vigorously oppose the cuts.
Jos Bell, from the campaign to save Lewisham Hospital also came to lend support and warning that the NHS was being vandalised.
Viv Ellis
20th October 2013