Expressing concerns over the current consultation process
Ealing's three parliamentary representatives have each raised their concerns about the future of
health services in the area - and the process which will determine their fate.
NHS plans could see the closure of Ealing's only Accident and Emergency (A&E) and intensive care units, as well as hospital maternity and paediatric services. Under the preferred option Charing Cross Hospital would also be downgraded to a local hospital, losing the same services as Ealing. Central Middlesex Hospital, which has already had its A&E unit reduced to a daytime only service, would see the unit close permanently and it would also lose its intensive care unit.
The proposals are part of a major restructure of NHS services in North West London outlined in this 890-page report.
Labour MPs Stephen Pound (Ealing North), Virendra Sharma (Ealing Southall) and Conservative representative Angie Bray (Ealing Central and Acton) spoke of their fears at the debate on West London hospitals in Westminster.
Virendra Sharma said: '' If the proposals go through, they will mean the effective closure of Ealing hospital. It will cease to be a district general hospital and be little more than a glorified polyclinic, with the surplus land sold off for luxury flats. I am deeply concerned about the proposals, and fear that they will have a significant detrimental impact on the health care that my constituents receive.''
Stephen Pound said: '' People are not with the Government on this issue, they are not with a shadowy PCT and they are not at all confident that the process is anything other than the biggest, crudest, roughest and most brutal rubber stamp. That is the impression that we in west London have. I implore the Minister to put our minds at rest and tell us that the consultation is genuine, and that there is a prospect of something other than an evisceration, an amputation without anaesthetic and a destruction of what we in north-west London hold so dear.''
Meanwhile, Ealing Central and Acton Conservative representative, Angie Bray, also highlighted her worries about the current consultation.
She said: ''The consultation is not made easy when the options to choose from are buried in such a heavy document. I have concerns about how that will affect the consultation process. The consultation document is itself a barrier to participation, as it is so huge and bulky as to be virtually impenetrable.''
She has written to NHS North West London Medical Director, Dr Mark Spencer (reproduced with permission below)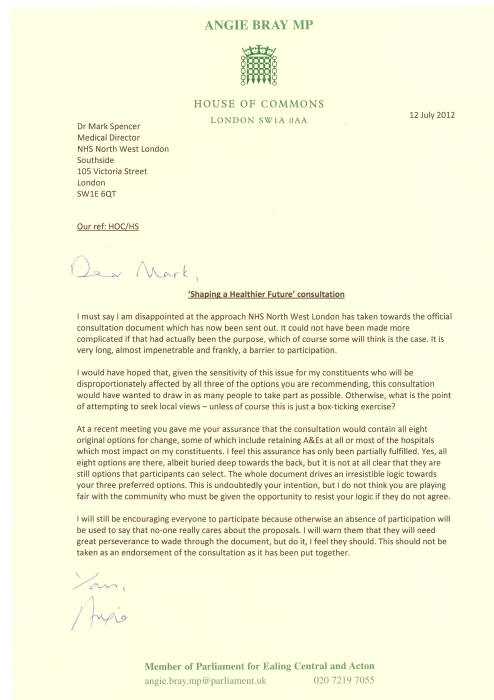 Ealing council is calling on anyone who lives or works in the borough to sign its petition against the plans and to respond to the NHS consultation.
The council's campaign e-petition can be found at www.ealing.gov.uk/petitions
July 14th 2012