Renewed appeals after traffic 'rage' incident on A40
Related Links
Renews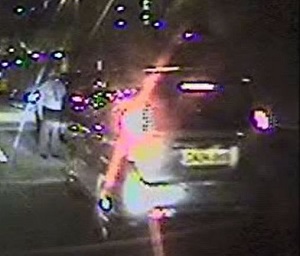 Suzuki Ignis - registration thought to begin with CA04.
Participate
Comment on this story on the forum
Police are renewing appeals for information in connection with a collision near Hanger Lane in which a taxi driver was injured after being dragged by a car along the carriageway.
At approximately 21:15hrs on 14 November 2013, a 59-year-old cabbie was driving his black Ford Galaxy people carrier (registration number: LR12 OSG) eastbound along the A40 towards central London.
Just before the Hanger Lane underpass, the cab hit the central reservation causing one of its tyres to deflate. The driver stopped in lane two and put his hazard lights on.
A car - believed to be a silver/grey coloured Suzuki Ignis (registration number believed to start CA04) - collided with the back of the Ford.
An argument started between the two drivers and the driver of the Suzuki then decided to leave the scene. The cab driver tried to stop him but the man held on to him and accelerated away into the underpass.
The driver was dragged approximately 200 metres before he fell onto the carriageway a short distance from the exit of the tunnel.
The cab driver, who is from Luton, was taken to hospital suffering serious injuries. He was later discharged from hospital.
Detective Constable Charlie Pulling, from the North West Traffic Garage, said: "The driver of the Suzuki is yet to be identified and I would urge him to come forward.
"We believe that his car sustained damage to its headlamp. If any mechanics or garages remember a Suzuki being brought in for repair around mid-November, then they should phone police.
"I still believe that there are also people who have information regarding this collision who are yet to contact us. I would ask them to phone the witness appeal line and help us with our investigation."
Any witnesses or anyone with any information that could assist police are asked to call the dedicated witness line on 020 8842 1817, or call Crimestoppers anonymously on 0800 555 111.
5th February 2014