Council say that they have enough grit stockpiled
Related Links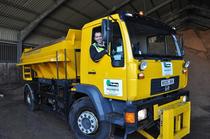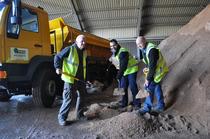 Participate
Comment on this story on the forum
Recent forecasts suggest we could be in for one of the coldest winters for some years, and gritters have already been out and about in some parts of the borough.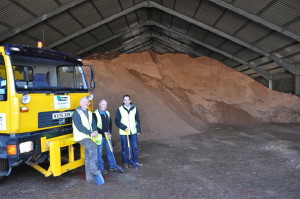 Ealing is one of the few places in the country with a purpose-built storage barn for grit.
The Council say that this means enough can be stockpiled throughout the year to help keep main roads and pathways clear.
5,000 tonnes can be stored at any one time - the equivalent of 714 double decker buses. More than 1,000 tonnes of grit was spread on Ealing streets last winter.
Councillor Bassam Mahfouz, cabinet member for transport and environment, visited the depot last week to ensure that everything was ready for the coming cold months.
The decision on whether to deploy the council's eight gritters is based on information from the Met Office and from considering prevailing weather conditions. And, despite it still being officially autumn, the road-surface temperature has already dropped low enough to require the gritters to go out at night several times.
Councillor Mahfouz said: "I was impressed with what I saw at the depot in Greenford today. Ealing is well prepared for the cold weather once again and we have plenty of grit to keep our main roads clear over the winter."
For more information on Ealing's roads and highways, go to www.ealing.gov.uk. To report a problem with an Ealing road, path or highway, go to www.ealing.gov.uk/reportit.
20th November 2012