Payment due for new year sparks anger
Related Links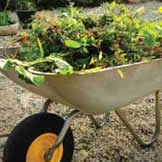 Participate
Comment on this story on the forum
Ealing Council's reminder about payment for garden waste collection for the new financial year has been criticised.
Residents now have to pay an annual charge of £40 (with discounts available) previously it had been included in the general collection for no additional fee.
Councillor Bassam Mahfouz, cabinet member for transport and environment said: "All garden waste should be recycled and there are lots of ways to do this. You can put it in a compost bin at home, take it to our local re-use and recycling centres, or by subscribing to the fortnightly collection service. Thousands of people signed up for the service last year and we are hoping even more will join this year especially as the fee will be kept at 2012's price. "
However some customers on the W3 forum have expressed anger with the service.
Lorna Dodd said her garden waste was collected 6 days late and she had to report it three times. She added: '' I am seriously considering deducting a small sum for every failure (and I have a log going back to last summer) from this year's invoice for garden waste collection... Why should we pay for a service we are not receiving?''
The Conservatives were against the charge last year and said they remained so.
Phil Taylor, opposition spokesman for Transport and Environment said:''Under the Conservatives, we made re-cycling easy and more importantly free. Labour are making it hard and expensive. The month long Christmas break, the alternate collection weeks and the charge have seen the amount of garden waste collected by the council halved."
Garden waste can still be taken to the borough's waste and recycling centres in Stirling Road, Acton and Greenford Road, Greenford for free by residents who would prefer not to join the scheme.
Are you happy with the service? Discuss on your local forum.
7th March 2013