Future Youth Inspired scheme offering a range of activities
Related Links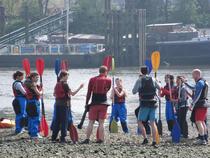 Participate
Comment on this story on the forum
School's nearly out for summer and Ealing youngsters can try something new and get nationally recognised qualifications in a free scheme.

The Future Youth Inspired (FYI) programme is created by young people for young people and has a wide variety of free courses includes Parkour (or freerunning); Ariel Circus Skills; catering and hospitality; photography; canoeing; and hair and beauty.

The full programme is available by going here
The online booking system will show you when and where the courses are taking place and how many spaces are available. All courses and activities are allocated on a first come, first served basis.

The activities are open to 13- 19 year olds (up to 25 for young people with additional needs). There are also some courses available for 11 and 12 year olds. All are specially designed for people who either live, study or work in Ealing.

The sessions take place at locations across the borough from Monday, 28 July to Friday, 29 August and more than 1200 young people signed up last year.

Councillor Binda Rai, cabinet member for children and young people said: "FYI is a great way to try new experiences, learn skills or just have some fun with friends over the holidays. Young people who take part tell us that as well as having a great time, FYI has also helped them to build their confidence.

"FYI is just one of the ways we show local young people and their families how much we value them. Times are tough for lots of our residents so I'm delighted that we have been able to once again keep our impressive range of courses and activities completely free of charge."

To find out more or to sign up for a course or activity go to www.youngealing.co.uk/fyi; email fyi@ealing.co.uk or call 020 8825 8226.
23 June 2014