Businesses with pest infestations 'putting public health at risk'
Related Links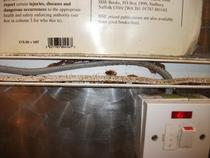 Officers found cockroaches inside electrical trunking in the kitchen at Chicken Spot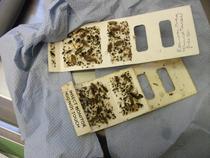 Officers found cockroaches on insect monitors at Chicken Spot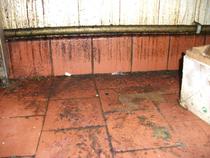 Kitchen floor at Wong's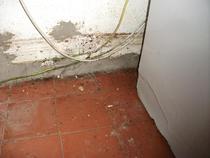 Mouse droppings on kitchen floor at Wong's
Participate
Comment on this story on the forum
Two takeaways in Acton and Greenford have been closed temporarily after cockroaches, mouse droppings and filty cloths were found.
The Chicken Spot at 7 Horn Lane, Acton, was immediately closed by the council on Friday, 6 December 2013, after food safety officers found live cockroaches throughout the kitchen and basement area. Officers also found exposed marinated chicken and flour being stored in open bags in the kitchen.
Last Thursday (2 January), Ealing Magistrates Court ratified the council's decision to serve the business a hygiene emergency prohibition notice and ordered the owner to pay court costs of £514.74. The council is working with the owner to improve the food hygiene of the business, and will allow it to reopen once satisfied that it no longer presents a risk to public health.
A Chinese takeaway business, Wong's at 626 Greenford Road, Greenford, was also closed by the council last month after officers found mouse droppings on shelves, floors and kitchen equipment during an unannounced inspection. Officers also found dirty cloths on kitchen surfaces, and saucepan lids in a handwash basin.
The business was inspected on Tuesday, 10 December 2013, after the food safety team received a complaint from a member of the public. It was allowed to reopen two days later, after a follow up inspection by the food safety team found extensive cleaning and pest control had taken place.
Last Thursday (2 January), Ealing Magistrates Court ratified the council's decision to close the business through a hygiene emergency prohibition notice, and ordered the owner of the business to pay £443.32 towards court costs.
Councillor Ranjit Dheer, cabinet member for community services and safety, said: "These two businesses had severe pest infestations, which put the public's health at risk. Our officers will continue to carry out unannounced inspections, and shut down any food business engaging in these dangerous practices."
Anyone concerned that a business is breaching food hygiene regulations should contact the council's food safety team on 020 8825 6666, or via email at foodsafety@ealing.gov.uk.
To check the hygiene rating of any food business in the borough, go to the Food Standard Agency's website at http://ratings.food.gov.uk/authority-search/ealing.


7th January 2014