Safety offers spread message about handling raw chicken
Related Links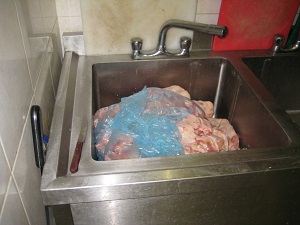 Don't wash raw chicken says FSA
Participate
Comment on this story on the forum
Food safety officers will be visiting businesses in Ealing which have a food hygiene rating of two or less and which handle raw poultry.
The fight against Campylobacter is at the centre of this year's Food Safety Week (FSW), which runs from 16-22 June.
In Ealing there is at least one confirmed case of Campylobacter every week, with many more going unreported.
Campylobacter is the most common cause of food poisoning in the UK, with an estimated quarter of a million people struck down by the virus this year alone. About four in five cases of campylobacter poisoning in the UK come from contaminated poultry, mainly through touching raw chicken.
Camplyobacter is invisible to the naked eye, has no scent or taste, but at its worst can potentially be fatal.
The Food Safety Agency (FSA) is spearheading a campaign to bring together the whole food chain to tackle the problem. For example, farmers and producers will be asked to work harder to reduce the amount of bacteria on their raw poultry.
Consumers will also be able to access increased levels of information on infection rates, with the FSA to release the results of quarterly tests carried out on about 1,000 samples of chicken being sold by UK retailers. Information will include details about where the chicken was bought, the abattoir that processed it, whether or not the sample contained campylobacter and if so, how heavily it was contaminated.
Councillor Ranjit Dheer, cabinet member for community services and safety said:
'It's important that people know to handle and cook food safely for themselves and for their families. We want to keep working with local people and businesses to help be part of this campaign to spread the word – and not the germs.'
Bob Martin, Head of Foodborne Disease Strategy at the FSA said:
'This is a serious problem and we are calling on the whole industry to do act together to tackle Campylobacter. People in Ealing can do their part by handling and preparing chicken with extra care – don't wash raw chicken, cook it properly and enjoy it safely.'
For more information see www.food.gov.uk/actnow. For advice on handling poultry safely see www.food.gov.uk/chicken
18th June 2014