Related links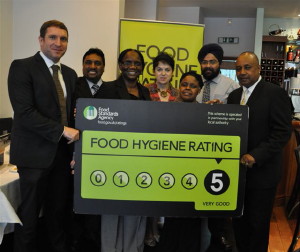 Head of regulatory services, Mark Whiltshire (left) and chair of regulatory services committee, Councillor Kate Crawford (centre), with representatives from some of the top-rated businesses in Ealing. Businesses represented at the event were Café Rendezvous of Perivale, Punjabi Flavours of Southall, Sunjam of Greenford and event host, Madhu's of Southall.
Food hygiene is a topic of concern in Ealing, and we often hear of various restaurants taken to court and fined for poor standards.
Now Ealing Council has joined a scheme to help customers make informed decisions about where to buy food in the borough.
Designed by the Food Standards Agency, it's already operating in many areas across the country.
Food hygiene officers inspect and rate food businesses based on their standards of cleanliness, food preparation methods, storage and cooking procedures and levels of staff training.
It is not a rating of the food or the service, simply the cleanliness and good practice of the outlet. Madhu's restaurant in Southall hosted an event on Monday 25 June to launch the scheme in Ealing.
The independent Indian restaurant received the highest rating of five under the new system.
Councillor Ranjit Dheer, cabinet member for customer services and community safety, said:
''There is no excuse for poor cleanliness. This scheme makes sure all information is available to customers and gives them the ability to judge a business for themselves. It also provides an incentive for businesses to maintain a high standard of food hygiene.''
Most venues serving food in the borough are now a part of the scheme, including restaurants, pubs, cafes, take-aways and hotels, as well as schools, hospitals, nurseries and care homes.
Look out for bright green and black food hygiene stickers showing a rating from zero to five or visit http://ratings.food.gov.uk/ to search for a business.
For more information on food hygiene and safety, email foodsafety@ealing.gov.uk or call 020 8825 6666.
27th June 2012