Union protesting introduction of new trains to walk out for three days
Related Links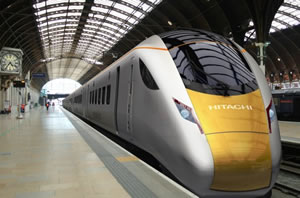 The new hi-speed train ordered by First Great Western
Participate
Comment on this story on the forum
Talks this week aimed at resolving a dispute at First Great Western have broken down with the result that strike action will begin this Saturday (29 August). Services through Acton and Ealing from Paddington face disruption.
First Great Western says it expects to run the majority of London Thames Valley services but long distance and local rail services will be reduced from Saturday 29 through to the end of service on Monday 31 August.
Members of the RMT are taking industrial action in protest of job losses resulting from the introduction of new high-speed trains. The new rolling stock will replace the fleet some of which was first brought into service in the seventies. The new Hitachi trains are due to be brought into operation in 2017.
First Great Western Managing Director Mark Hopwood said, "These brand new trains will deliver more seats, faster journey times and more frequent journeys for our passengers. Our plans mean more train managers on board our trains, not less.
"The key issues remains, that we want the driver to close the doors - which is fundamental to our ability to run the faster, more frequent services customers should expect from a 21st century railway. This method has been used safely across the UK rail industry for decades."
Mick Cash RMT general secretary said, "Although we have held many hours of talks with First Great Western we have not been able to make enough significant progress over the core issues at the heart of the dispute – drivers being forced to take over door and despatch functions which downgrades the safety-critical role of guards, removal of catering services and the threat to jobs among the train maintenance engineers."
Striking RMT members at Paddington: Picture RMT
Union members held a 48-hour strike over the same dispute in July and a 24-hour one on Sunday 23 August.

August 26, 2015