Council reveal more filthy businesses
Related Links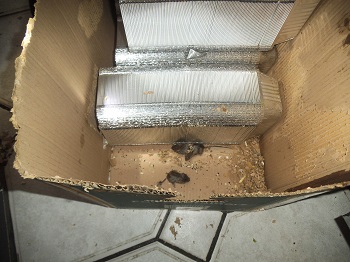 2 in 1 Pizza- Mice nesting next to takeaway food boxes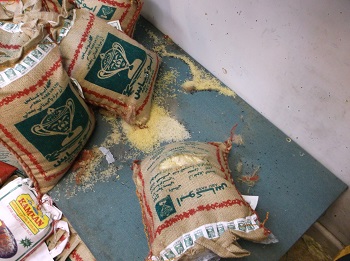 Al Rafidain - rodent faeces amongst chewed bags of rice for sale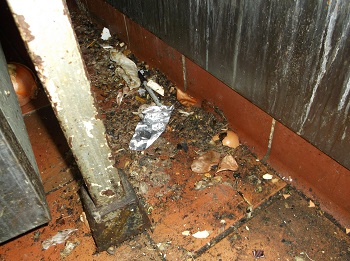 Palm palace- filthy kitchen floor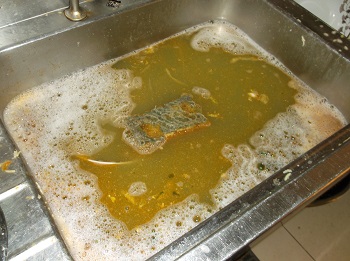 Rays - filthy water used to wash dishes
Participate
Comment on this story on the forum
Mice nesting amongst food boxes, a cockroach found in a takeaway meal, a gas leak and crockery 'washed' in filthy water were just a few of the horrors Ealing Council's food hygiene inspectors dealt with last month.
Five unsafe food businesses were forced to close temporarily and clean up their premises in February after council officers found evidence of serious breaches of food hygiene regulations.
An inspection took place at 2 in 1 Pizza at 504 Lady Margaret Road, Southall, after a customer complained that they found a cockroach in their food. When officers visited the business, they found a serious mouse and German cockroach infestation, including a nest of mice running around inside a box used to store takeaway food containers and rodent faeces inside pizza boxes.
The business was ordered to close immediately and was not allowed to open again until 10 days later after extensive cleaning and pest control measures were put in place.
Vegetarian restaurant Delhi Wala of 11 King Street, Southall, was also forced to close temporarily after officers found evidence of rat, mouse and cockroach activity on the premises. Mouse droppings and dead cockroaches were found in the kitchen and serving areas and rat droppings were found in the storage area. The restaurant was allowed to open five days later once officers were satisfied that improvements were completed.
When council officers visited Al Rafidain, a butchers and grocers at 140 Churchfield Road, Acton, it had a serious mouse infestation and was dirty throughout. A live mouse was found amongst bags of rice on sale and packets of food sitting on the shops shelves had been chewed by rodents. Once again, the business was closed and reopened five days later when the public health risk had been removed.
Serious concerns were raised about Rays restaurant located at 78 The Green, Southall, after a routine hygiene inspection. Problems at the business included a lack of adequate hand washing facilities, filthy water used to wash dishes, 'clean' plates wiped with visibly dirty cloths, dead cockroaches and evidence of rodent activity.
Inspectors also noticed a smell of gas during the inspection and National Grid confirmed a gas leak and disconnected the supply. The business was allowed to reopen after two weeks.
More evidence of mouse and cockroach infestations was found when officers visited Palm Palace at 80 South Road, Southall. Mouse droppings were found on food preparation surfaces and the business was generally dirty. The restaurant was closed down for three days until improvements were made.

Councillor Ranjit Dheer, cabinet member for community services and safety, said: "The state of these businesses was truly disgusting, as well as unsafe. We will always take what legal action we can to force dirty businesses to stop taking unacceptable risks with the public's health, but I would also urge local residents to check food hygiene ratings before they buy any fresh or packaged food from a business."

Ealing Magistrates Court ratified the Hygiene Emergency Prohibition Notices served on the businesses by the council's hygiene officers on and all five businesses were ordered to pay the council's costs.

Anyone who is concerned that a business is breaching food hygiene regulations should email foodsafety@ealing.gov.uk or call 020 8825 6666. Visit www.food.gov.uk to check the food hygiene rating of local businesses.

A video showing the nesting mice at 2 for 1 Pizza can be viewed at www.youtube.com/ealingcouncil
12th March 2014