First in London to ensure all schools have access to defibrillator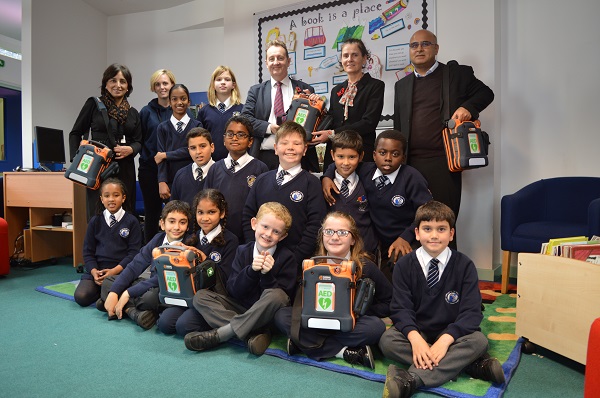 Ealing's the first in London to ensure all schools have access to lifesaving automated external defibrillators (AEDs)
This initiative follows after a number of community centres, parks and public buildings had also been provided with AEDs.
According to the Resuscitation Council UK, 270 children a year die from Sudden Arrhythmic Death Syndrome at school. AEDs, which are known to significantly boost survival rates in cardiac arrest cases, have been provided to schools free-of-charge through joint funding from Labour Councillor's ward forum budgets and the Leader's Fund.
The scheme, launched by council leader Julian Bell earlier this month at Our Lady Of The Visitation Primary School, will ensure all 91 schools in the borough have an AED.Training on the devices will be offered to staff members and pupils, although, AEDs are simple enough for anyone to use as they talk the user through the entire process should an emergency occur. The training will also include basic CPR which is vital to increase survival chances before an AED can be brought to the scene.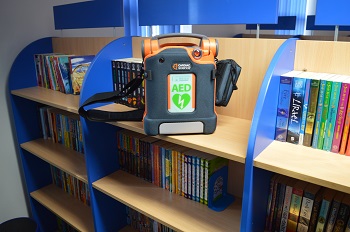 Cardiac arrest can affect adults and children without warning. The Powerheart G5 AEDs manufactured by Cardiac Science now in place across the borough's schools mean that pupils, staff members and the wider community are closer to lifesaving equipment.
Council Leader Julian Bell said: "I am delighted that Ealing is leading the capital in providing schools with life-saving defibrillators. These AEDs and related CPR training has proved vital in boosting the survival rate of children and young people affected by cardiac arrest, which is why I think it is so important that every school in our borough has access to one.
"We remain committed to ensuring that our schools are the safest possible environments for learning. Through the Leader's fund and Labour's ward budgets we have been able to deliver on this and ensure that each school is well equipped to offer effective and swift action in the rare event of a pupil or staff member suffering cardiac arrest."
Lesley Groome, fundraising coordinator at Hand on Heart, a charity which works to reduce the number of deaths of young people due to sudden cardiac arrest, said: "As a charity committed to keeping children safe and preventing the deaths of 12 young people who will die each week due to sudden cardiac arrest, we praise Ealing Council for such an important initiative. Through their actions in placing defibrillators in all the schools in Ealing, they are increasing survival rates from 6% to 74%."
Shaun Ingram, Managing Director of Cardiac Science, said: "It is an exciting project for all concerned and part of an increasing trend to get AEDs and CPR training up and running in schools. This is the perfect way of building confidence early in using an AED and CPR skills in an emergency. It will help save lives."
14th December 2017