Police concerned for Cailey-Anne Payne
Related Links
Participate
Comment on this story on the forum
Police are appealing for help in finding a missing teenager who has links in Ealing and Acton.
Officers want the public's help in tracing Cailey-Anne Payne, aged 16, who has been missing from Fishermead in Milton Keynes since last Wednesday (26/3). She was due to return home at 11pm that day but did not.
It's believed Cailey-Anne was seen in the Acton area of London on Saturday morning.
A CCTV picture released today shows her in Milton Keynes railway station on the evening she went missing (26/3).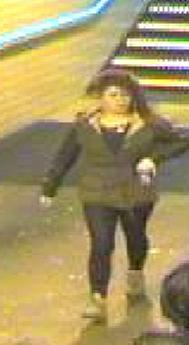 Cailey-Anne is white, 5ft 3ins tall, of medium build, with long dark reddish hair. She was last seen wearing light blue leggings, a green body with black arms, a leather jacket (believed to be the one pictured in the CCTV images) and grey Nike Airforce trainers.
Thames Valley Police detectives have been in London attempting to locate Cailey-Anne with assistance from the Metropolitan Police.
Det Supt Barry Halliday, LPA Commander for Milton Keynes, said:
"I am becoming increasingly worried about Cailey-Anne Payne as time goes by. She was initially with a friend but is no longer with that friend. I am concerned that Cailey-Anne has been missing for a week, and is potentially alone.
"She is not thought to have access to much money. I am appealing for anyone who thinks they may have seen Cailey-Anne to get in touch with officers immediately.
"If Cailey-Anne is reading this, your family is extremely worried about you. Please contact officers or phone us on 101 to let us know you are safe."
Cailey-Anne has links to Hackney, Ealing and Acton in London.
If you have any information about where Cailey-Anne may be, please call the 24-hour Thames Valley Police Enquiry Centre on 101 quoting URN 34 of 27/3.
3rd April 2014