It's kind on the pocket and good news for the kids
Related Links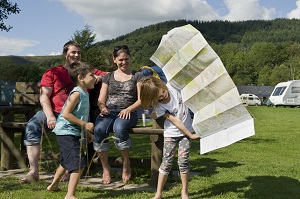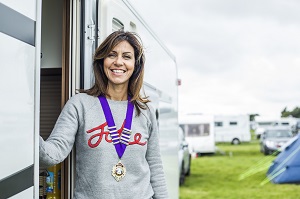 Camping and Caravanning Club President, Julia Bradbury
Participate
Comment on this story on the forum
Forget the expensive family summer holiday abroad...parents who take their offspring on camping holidays not only save money but reckon their kids do better at school.
That's the finding of a UK study carried out by the Institute of Education at Plymouth University and The Camping and Caravanning Club, who collaborated to discover perceptions of the relationship between education and camping.
The research led by Associate Professor, Sue Waite, found that more than 4 out of 5 parents thought camping had a positive effect on their children's school education.
98% of parents said camping makes their kids appreciate and connect with nature; 95% said their kids were happier when camping; and 93% felt that it provided useful skills for later life.
15% reported that escaping technology (laptops, tablets, mobiles, etc) is a good thing for their children and one of the benefits of camping. A fifth of parents said camping gives their kids freedom, independence and confidence; and more than two thirds felt camping helped their children to enjoy learning in the classroom, because they can share their camping adventures and experiences such as visiting educational or historical sites.
Sue Waite said; "Interestingly, the parents surveyed believed camping supported the key curriculum subjects of Geography, History and Science and actually, that stacks up because the most common camping activities were natural – such as rock pooling and nature walks – where children were getting to understand ecosystems and identify lifeforms, respecting nature and the environment."
The children who took part in the research were asked what they love about camping and the most common themes were making and meeting new friends, having fun, playing outside and learning various camping skills. Children also recognised camping's value for curriculum subjects and for problem solving and working together.
Julia Bradbury, The Camping and Caravanning Club President has three young children and is helping promote 'Get Kids Camping', she says:
'' Taking the kids camping is such a great experience for the whole family. We have masses of beautiful scenery on our doorstep in the UK and camping doesn't have to be expensive (although you can try glamping!). It's a brilliant way of getting our kids out in the fresh air, away from the TV and computers - developing their brains and teaching them to interact with each other and the countryside in different ways. If you haven't taken your family camping, give it a go – it's an adventure that won't disappoint you, and there are hundreds of superb British campsites to choose from."
To find out more information about the 'Get Kids Camping' campaign,visit here
Do you enjoy camping and have any favourite campsites? Discuss on the forum.
27th May 2015