Figures put the borough top of the table
Related Links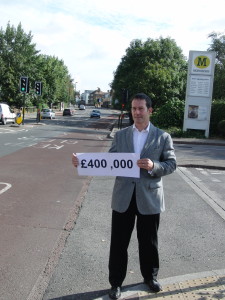 Councillor Phil Taylor next to the money making bus lane by Morrisons in Acton
Participate
Comment on this story on the forum
Motorists in Ealing have been given the most fines for driving in bus lanes.
Greenford, Northolt and outside Morrisons in Acton, are the areas having the most tickets issued.
Research by local Conservatives reveals that almost one quarter of all of these tickets were given out for one tiny bit of bus lane that runs for 100 yards down Steyne Road in Acton outside Morrisons. Over the last three months the council's own figures indicate that 508 tickets per month were given out. This is the equivalent of 6,100 per annum.
Cllr Phil Taylor, Conservative spokesman for Transport and Environment, said: "It is quite right that the council enforces bus lanes but there is no need for it be the top London authority. The fact that a quarter of all of these tickets come from one short stretch of road outside Morrisons in Acton looks more like revenue farming than fair enforcement to me. Actonians will not be happy to be the council's favourite bus lane cash cow.
"The council needs to explain why bus lane enforcement shot up by 40% last year and why it is so concentrated on so few sites, particularly Morrisons in Acton."
A survey from London Councils showed that the borough issued 24,690 fines between April last year and March 2012, bringing in at least £1.6 million.
That assumes the £65 fine charged for prompt settlement is paid. In reality, it's believed the figure could be much higher because drivers who do not pay immediately face a £130 fine.
According to the figures from London Councils (which oversees all 32 boroughs and produces an annual tally of traffic fines and appeals) bus lane penalties in the Capital increased to 233,201 from 216,495, resulting in fines totalling at least £15.1million.
Between 2011 -2012, 193,869 Penalty Charge Notices (PCNs) were issued in Ealing. 3,374 appealed against the PCN - 1454 were allowed that's 1.4% of total issued.
A spokesman for drivers' campaign group PenaltyChargeNotice.co.uk said, "Much enforcement is carried out erroneously or even illegally — for example, many bus lanes are longer than they should be and not marked or signed correctly, yet the enforcing authority continue to issue penalty charge notices, often illegally."
A spokeswoman for Ealing Council said: "The number of parking fines issued in Ealing has decreased overall, however we do warn motorists who drive or park irresponsibly in bus lanes that they may be recorded by CCTV and face a fine. Keeping these lanes clear during operating hours reduces congestion for bus passengers and cyclists."
Enforcement Activity 2011-12
Enforcing Authority
Bus lane PCNs
Ealing
24,690
Lambeth
22,152
Merton
21,800
Transport for London
20,530
Camden
19,471
Barking & Dagenham
13,698
Kingston
13,365
Barnet
13,317
Lewisham
10,249
Hounslow
9,502
Hammersmith & Fulham
8,621
Harrow
8,513
Bromley
6,179
Islington
5,667
Newham
5,231
Richmond
5,002
Waltham Forest
4,973
Haringey
4,748
Tower Hamlets
3,287
Croydon
2,923
Brent
2,442
Enfield
2,227
Hillingdon
1,867
Southwark
1,176
Wandsworth
826
Hackney
745
Bexley
-
City of London
-
Greenwich
-
Havering
-
Kensington & Chelsea
-
Redbridge
-
Sutton
-
Westminster
-
TOTAL
233,201
23rd August 2012