More money to develop the cycling sport
Related Links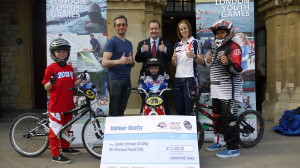 Participate
Comment on this story on the forum
BMX cycling in the borough has received a financial boost.
Councillor Julian Bell, leader of Ealing Council and local young people collected a cheque worth £2000 to help develop the Olympic sport.
The award is one of 17 made to London boroughs totalling almost £35,000 to deliver funding to London community projects that enable disadvantaged youngsters to take part in sport or physical activity.
The BMX project will enable the borough to purchase specialist equipment, deliver extra-curricular BMX coaching sessions in six local schools, host Ealing trials for the London Youth Games team and take a full team to the London Youth Games BMX finals in June this year.
The award was delivered by GB international sprinter and Commonwealth gold medallist Laura Turner on behalf of the 2013 Balfour Beatty Sport Development Grants with 95.8 Capital FM Help a Capital Child at Ealing Town Hall on Thursday 25 April.
Since the scheme was launched in 2007, an estimated 16,000 young Londoners have benefitted from £350,000 of funded projects.
On the back of the Olympics, cycling has become one of the fastest growing sports in the UK.
Leader of Ealing Council, Councillor Julian Bell, said: "Thank you to the London Youth Games for their generosity and support in awarding Ealing a 2013 Balfour Beatty Sport Development grant. Exercise and sport play such a vital role in ensuring young people stay active and maintain a healthy lifestyle.
"This funding will give our local BMX track, which was built in 2012 as a lasting legacy to the Olympic and Paralympic games, a fantastic boost and encourage even more youngsters to take up the sport."
The new pump track next to Gurnell Swimming Pool in Ealing has attracted a lot of attention from local youngsters and the upcoming trials day there on Saturday 11th May will result in a team being put together to represent Ealing at this year's London Youth Games.
If you are between 8-18 years old and like the idea of trying BMX racing, then get yourself down to the Gurnell track, next to the skatepark, on Saturday 11 May anytime between 12-3pm. Bikes, helmets and gloves will be provided. Just come in jeans and a long sleeved top.
If you live in Ealing or go to school in Ealing, you might even end up representing the borough at the London Youth Games, for more information please contact Ben Hagreenb@ealing.gov.uk or 0208 825 6104
30th April 2013