Presenter Anne Robinson shows her support for an old pal
Related Links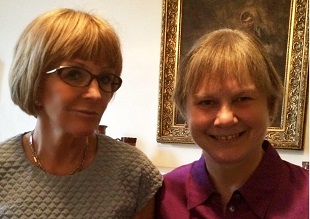 Participate
Comment on this story on the forum
The 'Weakest Link' presenter, journalist Anne Robinson was the guest speaker at a fundraising event held for the Ealing and Central Acton Conservative MP Angie Bray.
As the political campaign for next year's eagerly contested local parliamentary seat hots up, Ms Bray and team were pleased to welcome an old friend.
The two met through Daily Mail journalist Peter McKay and have known each other for over 20 years.
The presenter rarely does political events but she said she wanted to come to Ealing to show her support and to help raise some funds for her friend's re-election campaign.
The event was an early evening reception party at a supporter's house in Gordon Road in Ealing. Ms Robinson spoke about her life as a journalist and tv presenter of shows like the Weakest Link and Watchdog.
She also spoke about why she is supporting Ms Bray – that she is a hard-worker, ready to help anyone and determined and committed to her constituency.
Ms Robinson said: ''If Angie went public, I would want to be the majority shareholder. Lucky lucky Ealing and Acton having her fighting their corner"!
1st July 2014