Businesses learn how to sell alcohol responsibly
Related Links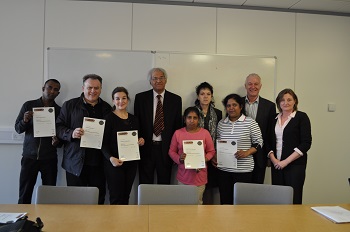 Participate
Comment on this story on the forum
Some shopkeepers in Ealing are now 'responsible alcohol retailers' after taking part in a course teaching them more about the dangers of drink.
Thirteen businesses were presented with award certificates accredited by the British Institute of Inn Keeping, after recently completing training.
The course equips businesses with techniques to avoid the sale of alcohol to under-age customers as well as street drinkers and other people with drink problems.

Training was delivered by brewery firm, SABMiller, and is designed specifically for people involved in selling alcohol directly to the public.
In order to receive the certificate, retailers had to achieve the required pass mark, which included completion of a multiple choice exam, covering the effects of alcohol on the body and licensing law.
Councillor Ranjit Dheer, cabinet member for community services and safety, said: "Irresponsible selling of alcohol, including selling to under-age drinkers, is known to fuel incidents of crime and disorder.
"We are committed to supporting businesses to sell alcohol responsibly and play their part in reducing anti-social behaviour. Congratulations to all the organisations that have successfully completed their training."
Cllr Isobel Grant, Conservative Spokesman for Community Safety said: "For many of our communities seeing drunks, anti-social behaviour and littered cans and bottles in our local streets as a result of irresponsible drinking is rightly a concern. Tackling this problem therefore requires a concerted effort and well done to those 13 retailers for receiving their Responsible Alcohol Retailing accreditation. However, the Council also needs to use its resources to work more closely with the Police and the voluntary sector to identify drinking hot spots and rigorously enforce the Borough's controlled drinking zones.
15th April 2014