Locals in Brentford dump the new bins outside Cllr Steve Curran's house
Residents in Brentford who are opposed to their new wheelie bins have dumped them outside the council leader's house.
The bins had been delivered as part of the controversial roll-out across Hounslow but furious locals decided to make their protest personal.
About 25 residents wheeled their bins up Braemar Road. Shouting "No wheelie bins in Brentford" they then placed the wheelie bins outside the council leader's house and took photos.
Cllr Steve Curran arrived at that moment, parking his car at speed and then shouted at the protestors to "p*** off".
Several residents tried to put questions to Mr Curran - about why there had been no consultation about wheelie bins, if he thought they were a blight on the local community, and why petitions and communications to local councillors had been met with silence. Mr Curran was visibly angered by one resident who asked him "why have we been disenfranchised by the democratic process?"
Cllr Curran said in a statement today (Nov 20) that while he firmly believes in the right to protest, there are appropriate ways to make feelings known. He said he was being harrassed and felt threatened and access had been blocked to his house.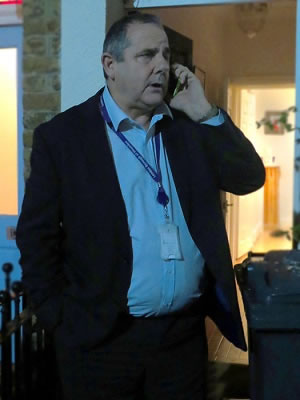 Cllr Steve Curran
Many residents claimed that they have not been consulted on the roll-out of bins and that protests via an online petition, a street petition and vociferous argument at last week's Isleworth and Brentford Area Forum have all fallen on deaf ears.
Cllr Steve Curran's statement said: "I firmly believe in the right to protest and I know people feel very strongly, both for and against the introduction of wheelie bins, but there are appropriate ways to make your feelings known.
"As Leader of Hounslow Council, I take full responsibility for the decisions we take, but it's simply not appropriate for a crowd of people to heckle and barrack me at night, outside the home which I share with my family. Nor is it right to prevent access in and out of my house with wheelie bins. Protesting outside my house is also not fair to my neighbours.
"I had no option but to call the police as I was being harassed and felt threatened.
"Council matters should always be debated in the right environments such as Area Forums, Cabinet and Borough Council meetings."
The statement from Cllr Curran continued, "If you don't use your wheelie bin; or if you tell us you don't want one, it will be removed. The dozens of bins that I am told were left again this morning (Friday) blocking access in and out of my house have all been removed.
"To be absolutely clear on this, if we take away your wheelie when the council has assessed your property as being suitable for the new collection service, it then becomes a household's responsibility to get rid of their rubbish. We will not collect any waste left out in black bags where households have refused to use their wheelie bins. You can take your rubbish to Space Waye the borough's Hounslow's re-use and recycling centre. Anyone found to be fly tipping will be prosecuted.
"The borough-wide roll out of wheelie bins follows positive comments from residents already using wheelie bins. In a recent survey more than two-thirds of those who responded were satisfied with the service, and almost two thirds also agreed that their street was cleaner as a result of introducing the new service. I urge everyone with reservations about the new bins to give them a go.
"If you have had your wheelie bin removed and you would like it returned, please email wheeliebin@hounslow.gov.uk or call 020 8583 2189 to arrange this."
Despite huge opposition and a 3,000+ petition, Ealing intend to introduce wheelie bins next year
Food waste will continue to be collected weekly but other collections will be alternate weeks - one week for general waste and the following week, recycling. Residents in Southall who already have wheelie bins will receive an additional one for their recycling.
There is a European-wide target to ensure half of household waste is recycled by 2020.
November 20, 2015