Those who hand in firearms, ammunition or imitations may not face prosecution
Related links
A real Glock made to look like a toy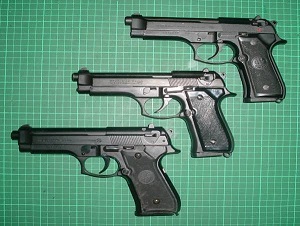 Three similar looking weapons: - The top firearm is a blank firer. - The middle firearm is real. - The bottom firearm is a BB gun.
Sign up for email newsletters from ActonW3.com,ChiswickW4.com, EalingToday.co.uk,
Firearms and imitation weapons can be handed in at Acton Police Station over the next two weeks during an 'amnesty' launched by the Metropolitan Police Service this week.
The weapons surrender will run between 7am on Monday, 23 November and 11pm on Sunday, 6 December and will give Londoners the opportunity to safely dispose of firearms, imitation weapons or ammunition, by taking them to a local 24-hour police station and handing them in.
During this two-week period, people surrendering firearms may not face prosecution for illegal possession and can remain anonymous. Each live weapon handed in will be assessed by firearms officers, with some weapons being forensically checked for evidence.
This year the campaign will also focus on imitation weapons, BB guns and air weapons, and the potential for these items to be mistaken for genuine weapons.
A social media campaign will highlight how realistic imitation firearms can appear - even to the highly-trained eye of a firearms officer - and the dangers faced by anyone carrying such an item in an inappropriate setting. This will include tweets of images of guns giving people #secondstodecide whether the guns posted are real or fake.
A webpage publicising the surrender and featuring a map for users to check the location of their nearest 24-hour police station is on the Met's web site.
The nearest for Ealing is at Acton Police Station
250 High St, Acton, London W3 9BH - open 24 hours.
Detective Superintendent Stephen Clayman, of the Trident and Area Crime Command, said: "We are asking Londoners to hand in firearms and imitation weapons to avoid them falling into the wrong hands. In an inappropriate setting, imitation weapons will cause fear and panic, and could lead to a police response involving the deployment of armed police officers, with potentially tragic results. Using an imitation firearm inappropriately may lead to a conviction for a serious criminal offence.
"Last weekend's tragic events in Paris have inevitably led to a heightened state of alert on the capital's streets. Gun crime, whilst low in London compared with other world cities, has a devastating impact on communities. Trident is committed to ridding the capital's streets of firearms, and last year Met officers recovered over 600 'lethal barrelled' firearms."
Detective Chief Superintendent Joanne Chilton, Head of NABIS, said: "Gun surrenders provide an important opportunity for people to hand firearms over to police to prevent them falling into the hands of criminals and endangering the public. We are pleased that the Metropolitan Police Service is running this operation and we hope as many people as possible take this opportunity to surrender their guns."
Last year, the Met carried out its first firearms surrender for six years. The two-week initiative was very successful with over 350 firearms and 12,300 rounds of ammunition handed in.
Anyone wanting more details about how to surrender firearms or ammunition should contact their local police. If you have any information regarding gun or gang crime you can call Crimestoppers anonymously on 0800 555 111 or access a secure online form via Crimestoppers
In an emergency always call 999.
November 24th 2015