Money from unclaimed property will help Wasps
Related Links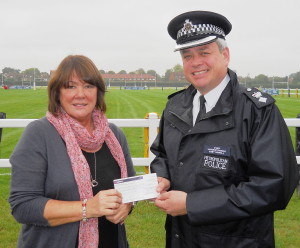 Gloria Sennitt and Commander Andy Rowell
Participate
Comment on this story on the forum
Police have donated £2,000 from profits of unclaimed criminal property to London Wasps rugby club.
Under the Police Property Act, goods confiscated from criminal activity during police investigations can be sold to raise money for local charitable causes.
The cash was handed over to the club based in Twyford Avenue, Acton, last Wednesday (Sept 21), by Borough Commander Andy Rowell.
Operations manager for the Acton-based club, Gloria Sennitt, thanked the police for the donation. She added:
"We pride ourselves a the club of never turning any young people away who would like to play rugby. This donation will go a long way to continue funding rugby for young people in the Borough of Ealing."
The club has teams for Under 6s and up to Under 18s, there are three men's and two ladies' teams who train on Tuesday and Thursday evenings. The grounds are also used by local secondary schools.
If you are interested in playing rugby, visit www.waspsfc.co.uk
27th September 2011