District Line closed between Turnham Green and Ealing Broadway for nine days
Related Links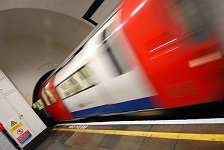 Travel Updates for Your Area
The District line is to close between Ealing Broadway and Turnham Green, over nine days from Saturday 24 October to Sunday 1 November with the Piccadilly line closing from Acton Town to Uxbridge on the two weekends during the period.
Work on tracks and the modernisation of the Hanger Lane rail junction will mean disruption for local commuters.
TfL say that after the work, points failures will be much less frequent, meaning fewer delays to customers and more reliable journeys through Ealing and Chiswick
Hanger Lane rail junction is where the Ealing Broadway branch of the District line divides from the Uxbridge branch of the Piccadilly line but the work will not disrupt the Hanger Lane underground.

London Underground (LU) engineers and contractors will completely renew and realign the Hanger Lane junction.

Other Tube services will continue to serve the area, as will rail replacement and local bus services.

The work will be done in two halves, rather than all at once, allowing the Piccadilly line to remain open on weekdays.

LU will take full advantage of the closure of the District line section to carry out other work at Ealing Broadway. Engineers will also replace an additional 330 metres of track, with the aim of making the entire area more reliable, with a smoother ride.

During the closure there will be some changes to transport services:
• The District line will not run between Ealing Broadway and Turnham Green. But the Central line will continue to serve Ealing Broadway every day as normal
• The Piccadilly line will run as normal on weekdays, providing alternative Tube routes from Ealing Common and Acton Town
• The Piccadilly line will close between Acton Town and Uxbridge on the weekends of 24/25 October and 31 October/1 November
• Trains will not run from Chiswick Park Underground station throughout, but it will be open to serve customers with tickets and information
• Rail replacement buses will serve Ealing Broadway, Ealing Common, Acton Town and Chiswick Park throughout the work, supplementing existing local bus routes
• LU will run 50 per cent more District line services to Richmond to serve the semi-finals and final of the Rugby World Cup on 24, 25 and 31 October

David Waboso, LU's Director of Capital Programmes, said: "Our engineers and contractors will be working around the clock to replace this complex junction. I am sorry for the disruption to customers during the closure, which we will keep as short as possible. When the junction re-opens, it will be immediately more reliable and trains will be able to travel faster through it. District line customers will see more and more new trains over the next year, followed by a complete modernisation of the line's signalling that will radically improve journeys."

The current Hanger Lane railway junction was built in 1984 and the poor condition of the ground on which it rests requires frequent maintenance and leads to repeated points failures, causing delays to District and Piccadilly line customers.
October 21, 2015