Register with the council for your chance to be chosen
Related Links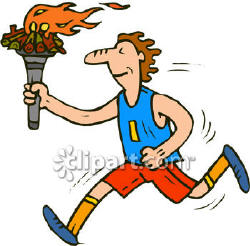 Participate
Comment on this story on the forum
Ealing Council is offering two residents the chance to carry the Olympic torch next year.
On July 24, 2012, the world-famous torch will stop-over in Ealing, on its way to the opening ceremony at the Olympic Stadium just three days later. By registering on the council's website – www.ealing.gov.uk - residents have the chance to be picked to carry the torch on one of two legs of its journey through the borough.
Borough residents who want to have a chance of being selected, or want to nominate someone else in their household, simply need to register, fill in their details and opt to receive updates on 'Olympics 2012 local events'. They must also agree to receive further information. More details will then be sent to those that have applied. Residents can also choose to receive information about other council services and things important to their local area.
The torch will be carried across the country during a 70-day relay in the weeks leading up to the London 2012 Olympic Games, with around 8,000 people getting the chance to carry the torch along the way.
The final seven days will see the procession work its way across London and Walpole Park has been announced as one of just six road show stage-points along the route through the capital.
Councillor Julian Bell, Council Leader, said: "I am delighted Ealing has been chosen as one of only six overnight stops for the Olympic torch. Three days before the start of the Games, anticipation will have reached fever pitch and I expect an electric atmosphere in Walpole Park. Taking part in the torch procession would be a once in a life-time experience, so I'd encourage every resident to register their interest on the council's website now. Even if you do not take part in the torch relay, you can still enjoy the entertainment at the party in the park on 24 July, 2012."
To register visit: www.ealing.gov.uk/register

June 28, 2011