Police are appealing for the help in identifying a man they would like to speak to in connection with an attempted sexual assault that happened on 1st April 2011 at approx 00:30 near Acton Park, High Street, W3.
A 21 year old woman, had been out on a night out when she was followed by the suspect from Shepherds Bush tube station on to a 207 night bus heading towards Acton Park.
She got off and the man continued to follow her - as they approached Acton Park, he pushed her against a fence.
She managed to get away and contact police.
Police would like to speak to a man who is described as being an asian man, aged in his late 20's, approx 5'10" tall. He has short black hair and a deep London accent, he also had distinctive v shaped markings on the back of his head.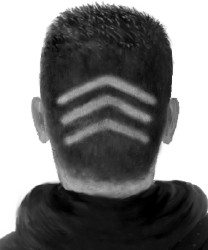 Officers from Ealing's Serious Violence Team are investigating the assault and have released two e fits of the man they would like to identify in connection with this enquiry.
Detective Constable Lorraine Davies from the Serious Violence Team at Ealing said :
"We are very keen to speak to the man in connection with this incident and ask for anyone who knows who or where he is to contact us.
''Anyone with any information is asked to contact police on 020 8246 1186 or call Crimestoppers Anonymously on 0800 555 111.''

08 August 2011