Get green and win money for your ward
Related Links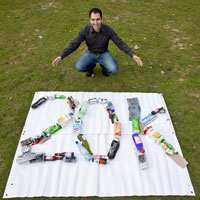 £20,000 for the greenest wards (Councillor Bassam Mahfouz)
Participate
Comment on this story on the forum
Hobbayne, Northfields and Elthorne are top wards for recycling in the borough and Acton and Southall Green come out at the bottom according to a new survey.
Ealing Council revealed the results at the launch of an incentive scheme which will see the borough's 23 wards competing for extra cash.
A total of £80,000 has been allocated and the council says is the first competition of its kind in the capital.
The ward with the highest proportion of households recycling, as well as the three with the greatest improvement in recycling rates, will be awarded £20,000 each to spend on local environmental projects through their local ward forum.
The council survey revealed that currently 75% of people in Hobbayne, 71.9% in Northfields and 70.8% in Elthorne use their green boxes and white sacks compared to 47.1% in Acton Central, 46.5% in South Acton and 38.3% in Southall Green.
Labour councillor Bassam Mahfouz, said:
"We all know recycling is so important and we want to show our support for those who take the effort by rewarding those communities with money for projects. There'll be a prize for the three best improved alongside the best overall, so everyone has a chance of winning."
"Even if people currently use their green box, we're encouraging them to use the other means of recycling too such as plastics and food. We know you can do it– since we introduced the kitchen caddy I've been pleased to see participation rates for food recycling go up across the borough. Now the competition is in full swing and wide open, so let's get recycling and spreading the word."
The council will use Waste and Resources Action Programme (WRAP) methodology to carry out recycling participation surveys in wards and will assess which have seen the biggest increase in the proportion of households recycling by next spring.
The weight of recycling will not be measured and the council will not be putting electronic chips in bins.
The full table of participation results can be found on Ealing Council's website:
http://www.ealing.gov.uk/services/environment/recycling/recycling_rewards/index.html
1 November 2010