Building award for local school
Related Links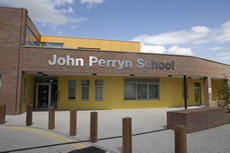 Participate
Comment on this story on the forum
John Perryn Primary School in Acton has won The Ealing Civic Society 'best building' award.
It's the 21st year of the competition and six buildings with special architectural merit were shortlisted by judges.
The primary school in Long Drive designed by Penoyre & Prasad came out on top.
The outdated 1930s school building was completely rebuilt over 17 months using £8.9million of funding from central government and Ealing Council. It was specifically designed to create a modern school equipped with bright, spacious classrooms and adaptable learning spaces for the students and teachers.
It has the latest computer technology and the outdoor area has been transformed by the creation of flexible landscaped terraces for outdoor learning, play and sports.

Facilities for the local community are also provided, including a 25-place children's centre and adult learning rooms.
Other Ealing Council building projects were acknowledged on the night with the new Northolt Leisure Centre and the Jubilee Gardens Health Centre and Library, Southall, both receiving commendations and the recently opened new Northolt Library shortlisted for an award.
Councillor Julian Bell, Leader of Ealing Council said: "I am delighted by this award. John Perryn School has been completely rejuvenated by this investment and the new building and outdoor areas are supporting the excellent teaching and learning that is going on there.
"This award is shared with the school's senior management team, teachers and students who worked so hard with us to get the design right.
"And I am very proud that three other Ealing Council projects have also been recognised by the Ealing Civic Society. We place a high emphasis on quality building design and it is always gratifying to know that people think we are getting it right."

November 10th 2010