Andrew Castle to open Park Club's new indoor facility
The Park Club is set to unveil its new indoor tennis facility this month. The luxury health and fitness club will now be able to offer tennis enthusiasts the chance to play in all weather conditions under a massive dome. The facility will provide four newly laid astroturf courts.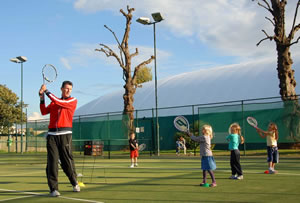 The dome is immediately adjacent to the Club building. It will be heated throughout the autumn and winter and overhead lighting will enable play for the majority of the the opening hours of the Club.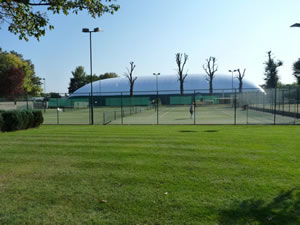 To mark this addition to the Club, former British No. 1 tennis player, and television presenter Andrew Castle will be officially opening the dome on the evening of their Member's Cocktail Party on Thursday 20 October 2011 from 7.30pm. This will be an informal evening with a mini tennis tournament in the dome with new Head Tennis Coach, Shane Hurst, followed by complimentary cocktails, canapes and light jazz. They will also make the draw and announce the winner of an exclusive Park Club member competition to win 5 nights stay at the Intercontinental Aphrodite Hills Resort Hotel.
Tim Slater; Sales & Marketing Director told us, " It's taken several years of consultation and discussion with planning experts, half a million pounds of investment, and it's SO worth it. The end result is absolutely fabulous – almost cathedral-like! The dome is massive - 2250 sq metres - and with its' hi-specification hung rooflights, double skin insulation and heating this is the best of the best! We are now looking forward to taking tennis to the very highest level, adding in further sports such as badminton and numerous children's activities after- school. "

A short time lapse video showing the dome being created has been published.
The dome will ensure that the Park Club continues to have some of the best tennis facilities in London. It adds to the existing 11 all weather astroturf courts, 2 grass courts, 4 tarmacadum courts and 4 mini tennis courts. Combined with 3 to 5 tennis pros subject to the season, they are able to provide adults and children an opportunity to get involved in the sport.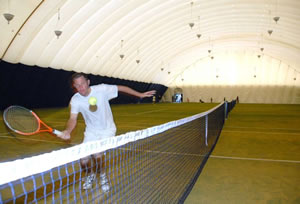 The Club provides a host of opportunities to compete against Park Club members of all levels as well as external competitions. With their association to the Lawn Tennis Association, Park Club members who register as British Tennis Members can be ranked both within and outside of the Club.

October 14, 2011