organised by Palestinian Solidarity Campaign
Related Links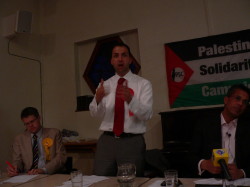 L to R: Jon Ball (Lib Dem); Bassam Mahfouz (Labour); Salim Alam (Chair WLPSC)
Sign up for email newsletters from ActonW3.com, EalingToday.co.uk,
Participate
Comment on this story on the forum
Over 50 local residents attended a pre-election hustings at St. Mary's Church Ealing on Friday 23 April for candidates for the new Ealing Central and Acton Constituency.
The meeting focussed on one of the key foreign policy challenges for the next UK Government - Israel/Palestine, but the debate also covered Afghanistan, the 'war on terror', civil liberties and nuclear weapons.
Labour, Liberal Democrat, Green and Independent candidates all took the opportunity to address voters at the meeting, outlining their own personal and party's views and take questions from the audience, in what has been described as a well-informed and serious interchange between voters and candidates.
We asked why Conservative PPC Angie Bray didn't attend. She told us:
''This meeting clashed with a long arranged canvas session with personal friends of mine who were coming from all corners to help with my campaign. It was not something I could cancel.
"I did offer the Chairman the same answer to the issue about Palestine that I had previously given to the congregation at Acton Mosque. I have no idea why he found it impossible to read it out on the night.
"I support the two state solution for the Middle East based on mutual respect for borders."
The Candidates' hustings for Ealing Central and Acton were organised by the West London branch of The Palestine Solidarity Campaign (WLPSC) which also arranged a similar hustings two weeks ago for candidates in the new Hammersmith constituency.
April 26th, 2010