20 minutes from Acton to Bond Street, Heathrow in half an hour
Yesterday morning (Monday 22nd September) Transport for London opened a public consultation on creating a mega transport hub at Old Oak Common by 2026, linking London Overground, Crossrail and HS2 at the site near Wormwood Scrubs. The proposal is hoped to supplement the Mayor of London's plans for a wider development at Old Oak Common, which aims to deliver 24,000 new homes and 55,000 jobs in the area, and could include a new home for Queens Park Rangers Football Club.
Estimates from Transport for London suggest that if all the new lines are built at Old Oak, up to a quarter of a million passengers could use the station every day, as many as use Waterloo. Only the Crossrail line has been confirmed so far. TfL has also projected some of the journey times savings that could be made under the new plans. For example, it is believed the Old Oak interchange could nearly halve the amount of time a journey from Acton Central to Bond Street could take, from 35 to 40 from 25 to 20 minutes. The journey time from West Hampstead to Heathrow could be slashed from an hour to half an hour.
For the proposed London Overground station at Old Oak, TFL is presenting three options to the public:
Option A - A viaduct will divert the current Clapham Junction to Stratford line so that it links with the Richmond line at the new station at Old Oak Commmon. As in all the other options, a walkway will link the Overground station with Crossrail and HS2 stations.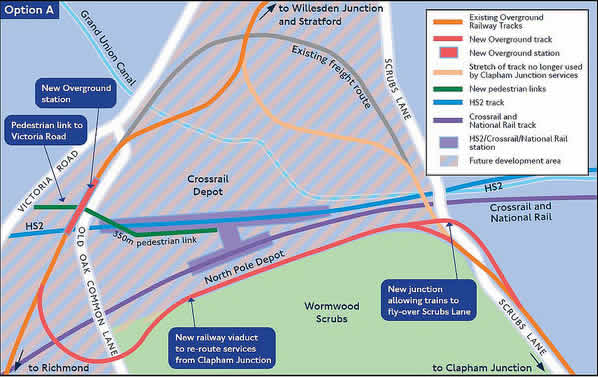 Option B - Clapham Junction services are diverted along existing freight railway tracks towards Old Oak Common station. A short walkway links Overground, Crossrail and HS2 stations.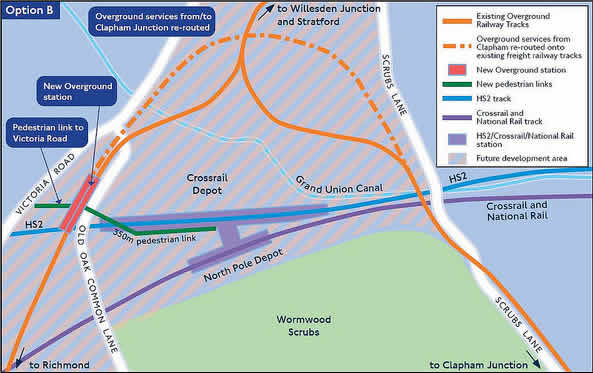 Option C - Clapham Junction line is not diverted to link up with Richmond line at Old Oak. Instead, two new stations are built, one at Old Oak and one next to Hythe Road, both linked by walkways to the Crossrail and HS2 stations at Old Oak.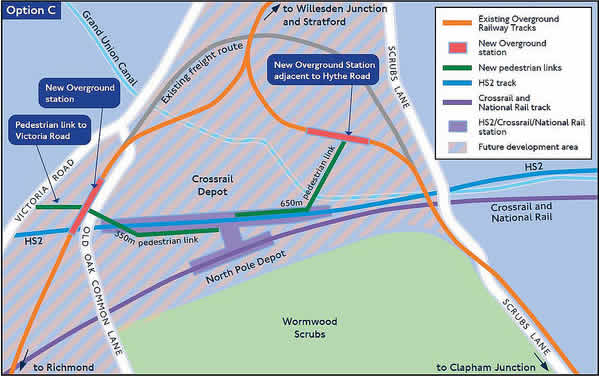 Mayor of London Boris Johnson is eager for the Old Oak area to emulate the regeneration of Stratford in preparation for the London Olympics, and like Stratford, Old Oak will be given its own Mayoral Development Corporation (MDC). Speaking yesterday (Monday 22nd) the Mayor, who will not stand for re-election when his second term ends in 2016, said: "The arrival of Crossrail and HS2 provides a once-in-a-lifetime opportunity to transform Old Oak into a vibrant new neighbourhood for west London. It's crucial that we get peoples' views about the creation of a fantastic new transport-hub that would see Crossrail and HS2 linked in with a brand new London Overground connection. This vital interchange will catalyse the Old Oak area, taking it from a derelict wasteland into a new city quarter for Londoners and visitors to the capital."
September 23, 2014