Last ditch attempt to prevent A&E closure at Central Middlesex
Related Links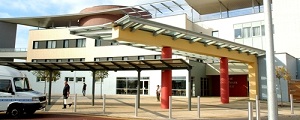 Participate
Comment on this story on the forum
There are calls for the NHS to halt plans to close the A&E department at Central Middlesex Hospital after the alternative A&E service at Northwick Park Hospital was found to be inferior.
The inspection carried out by the Care Quality Commission (CQC) rated the A&E service at Central Middlesex as 'good' but found that same service at Northwick Park Hospital 'required improvement'.
The NHS intends to close the A&E services at both Central Middlesex Hospital and Hammersmith Hospital on 10 September as part of its plans to rationalise services across North-West London. This will mean that people who previously used A&E services at these hospitals will transfer to other local hospitals, including Northwick Park.
The CQC report which reviewed services provided by North West London Hospitals NHS Trust was released today (Wednesday, 20 August). It identifies a number of areas where Northwick Park Hospital needs to improve including ensuring that there are enough staff to deal with A&E patients. It also wants to see better systems in place to assess and monitor the quality of A&E services to make sure that they are safe and can be benchmarked against national standards.
Councillor Julian Bell, leader of Ealing council said:
"This report raises serious questions about the sense of closing a good A&E service at Central Middlesex and pushing patients to a poorer service at Northwick Park Hospital. Since these plans were announced, I have expressed concerns about the ability of the remaining A&E services to cope with extra demand in patient numbers and this report increases these fears.
"We were promised that services would only close when proper alternatives were in place, this is clearly not the case and so we expect the NHS to stop the closures."
In addition to the planned closure of the two A&Es next month there are longer term plans to provide fewer maternity units in the region, including at Ealing Hospital.
The CQC inspection report, found that maternity services at Northwick Park Hospital required improvement to ensure women received a safe and effective service. Worryingly, the inspection team found that women in labour couldn't always get the help they needed and that individual needs of some mothers were not being met. It also found the environment and equipment in paediatric services needed to be improved.
Councillor Hitesh Tailor, cabinet member for adults, health and wellbeing said: "We are committed to ensuring that our residents have access to the best possible health services available. On reading this report, I am deeply concerned about the loss of A&Es services for Acton residents.
"We know that when services shut they are gone for good. It makes little sense to close a maternity service in our borough and force mothers to travel to Northwick Park Hospital which the CQC inspector has found to be inadequate.
"The bottom line is that no changes should take place to existing hospital services until we are assured that satisfactory alternatives are in place and can cope with increased demand."
Inspectors found areas of outstanding practice at Northwick Park Hospital, including its stroke unit which it said was providing a 'gold standard service'.
The CQC's full reports on the trust and on each hospital site covered by this inspection are available from: http://www.cqc.org.uk/provider/RV8.
20th August 2014