Christmas came early for children at West Middlesex Hospital thanks to the generosity of Japan Airlines staff.
Crew members Deena Green and Emilie Boitard accompanied nurses as they took round a trolley laden with toys for children on Starlight, Sunshine and children's A&E wards on 19 December.
Ground and flight staff from the nearby Heathrow base have been donating new toys to West Middlesex for many years, to cheer up children needing hospital care over Christmas.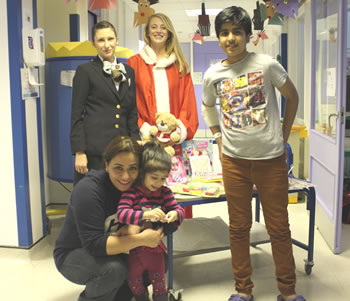 Emilie said: "We enjoy being able to bring happiness to a poorly child even if just for a few moments, and it's a great experience to come here and offer the toys."
13-year-old Suleman Malik from Isleworth had been in hospital for five days being treated for his asthma, and generously donated his gift to his little sister Hajiran. He said: "It's nice to have presents at this time of year."
Kay-Louise Emerson, a staff nurse on the A&E children's ward, said: "We are so grateful to the staff at Japan Airlines for their generosity. Playing with toys can help reduce children's pain and anxiety, and helps make coming to hospital a less scary experience."
December 20, 2012