Three year old is in urgent need of transplant
Related Links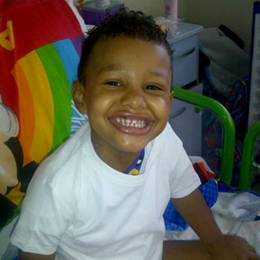 Kye Carpenter Mark desperately in need of a donor - can you help?
Participate
Comment on this story on the forum
A litle boy from Southall could die unless a bone marrow donor can be found.
Kye Carpenter-Mark is suffering from Acute Myeloid Leukaemia and is in urgent need of a transplant.
He has received treatment for many months but is now suffering from bone marrow failure.
Kye is receiving urgent treatment at Great Ormond Street Hospital and awaits further chemotherapy. He continues to fight infection and fevers and needs regular blood transfusions to sustain him and his best chance of recovery is a bone marrow stem cell transplant from a genetically-matched donor; however he now faces incredible odds to find someone suitable.
Kye is Laura's (White British) and Kieran Mark's (Grenadian/Curacao Island) only son. Statistically, the chances of finding unrelated matches for Mixed race people are lower because of greater genetic diversity and too few people from minority ethnic communities volunteer to join the bone marrow register, this makes the task so much hard.
Following a successful appeal to raise vital funds the African Caribbean Leukaemia Trust (ACLT) are to host a recruitment drive at the Choice FM headquarters Global Radio, 30 Leicester Square, London WC2H 7LA on Saturday 18th June 2011 between 11am till 4pm.
Kye's parents said: "We urge everyone to unite on 18 June (also Laura's birthday); especially people from Mixed race and African Caribbean communities and sign up to help save Kye and others like him. You never know, you may be able to help. Finding a match would be the best birthday present ever!"
ACLT co-founder Orin Lewis said: "We need the community to act NOW and attend the SUPERHEROES DONATION DRIVE on Saturday 18 June in Central London. Everyday life will inevitably get in the way when planning to attend such an event; however it's about making a choice to potentially help save a life of someone's mother or child. Time is not a factor for a patient in need of a bone marrow, blood or organ donor. Please make it a priority to attend the forthcoming donation drive at Global Radio headquarters in Leicester Square".
The ACLT have named the day "SUPERHEROES DONATION DAY" in response Kye's appeal after he celebrated his 3rd birthday on 18 May; however his smiles hide his desperate fight for life, he urgently needs a Superhero.

The ACLT require Black, Asian and Mixed Race individuals to represent their community through donation of bone marrow, blood and organ, through their one stop registration event which takes 30 minutes and provides the opportunity for the community to come together and help potentially save a life.
Successful bone marrow registrants will be required to provide a small saliva sample. Individuals wishing to become blood and/or organ donors will be asked to complete a short application form. Potential blood donors will be sent an appointment date, time and venue to donate blood for transfusion purposes and organ donors will be added to the database of organ donors and sent an organ donor card.
For more information on how to become a bone marrow, blood and organ donor please visit the ACLT's website, www.aclt.org

14 June 2011