Controversial star to host Second Gear on new council run station
Related Links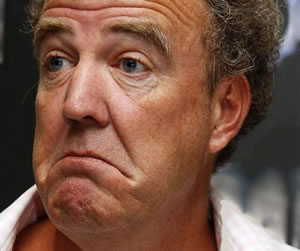 Participate
Comment on this story on the forum
In a shock move Jeremy Clarkson, the former host of BBC's Top Gear, is to sign up with a new TV station planned for the Ealing area.
His new role will shock his legions of fans throughout the world as he is going to be championing Ealing Council's policy of trying to reduce car use in the borough. He is to be their new evangelist for bus lanes and increased facilities for cyclists in a complete turnaround from his 'Mr Toad' persona previously.
It is understood from TV industry sources that Mr Clarkson was left with few options after his departure from the BBC as both Sky and ITV decided to clear of him following a series of gaffes and an attack on a producer. Ealing Council were already planning to launch a new TV station for the area prompted by the success of London Live TV and made a speculative approach in a local pub not expecting a positive response. It is understood that Mr Clarkson's pay package will be substantially below what he was receiving at the BBC but he will be provided with a 24 hour sandwich making service as part of the contract.
The main platform for his talents will cheekily be called 'Second Gear' a reference to the highest you can get to on the local section of the A406. There will be some elements of his original show incorporated into the new programme with Stig swapping his motorcycling helmet for a bicycling one and Jeremy's celebrity guests being timed used an Oyster Card to travel round a circuit of Ealing.
Ealing Council were already planning a new TV station to be launched after the general election and this major coup is likely to be a huge boost to its prospects. It is to be funded by a Government grant, advertising and a local license fee chargeable to every home in the borough. This latter is now likely to be much higher than planned in order to pay Mr. Clarkson. The Council believe that with the print run of the local newspaper being reduced and local news web sites not focusing enough on all the positive things that the Council do the time was right to launch their own media. It will avoid news stories which it feels it is in the best interests of local people not to know about such as cuts to services, increased charges and large unwelcome developments and focus on the many achievements of the local authority.
Mr Clarkson is understand to be excited about his new role and is telling people to take a 'proper gander' at the station when it is launched. He is determined to turn over a new leaf and told us, "I am going to change my ways because my past behaviour was a slippery slope… sorry I mean I had coloured people's expectations.. sorry I mean … oh sod it.. where's that lazy Mick with my ciabatta!"

April 1, 2015