Mayor says expansion of Heathrow would be a "giant step backwards for London"
Ealing Conservatives joined the rally, of around 1,000, to oppose the expansion of Heathrow Airport (Saturday 27 April) at Barn Elms, Barnes.

Organised by Zac Goldsmith MP for Richmond, Mayor Boris Johnson and former Transport Secretary, now International Development Secretary, Justine Greening MP were the main speakers opposing the expansion.




image courtesy David Millican
Speaking after the event Ealing Conservative Group Leader Councillor David Millican said:

"It would be a disaster for the environment if Heathrow were to be expanded with a 3rd runway. The extra traffic, noise, pollution and emissions would be totally unacceptable to us in West London. It would dramatically reduce the quality of life for so many residents in our part of London. I echo Mayor Boris Johnson who told the rally that it would be a retrograde step and desecrate London if Heathrow were allowed to expand. No ifs, no buts, we must make sure that there is no expansion of Heathrow."
Last September, the government launched a review of how the UK might expand its airport capacity in the South East. One long-standing option has been to add a third runway at Heathrow.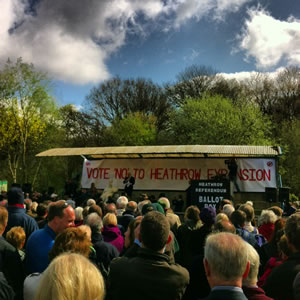 Boris Johnson told BBC London the alternatives offered by Gatwick, Stansted and two sites in the Thames Estuary should be concentrated on, and the idea of Heathrow expansion "closed down".
He said Prime Minister David Cameron was keeping his cards close to his chest: "I think my party, the Conservatives, would be utterly nuts to go into the next election with the possibility of a Heathrow third runway on the table."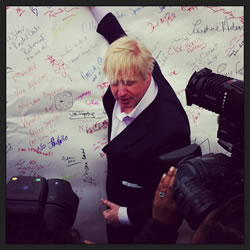 Ealing Central and Acton MP Angie Bray said:
"It's great to see so many people here, but disappointing that all these years on, we're still having to fight against Heathrow expansion - it's like the monster that won't go away, and we need to drive a stake through its heart. We know it's not really just about a third runway - after that, they'd be after fourth and even fifth runways. So I say, Heathrow third runway, Heathrow fourth runway, Heathrow fifth runway - NO, NO, NO!"
Richard Tracey, Assembly Member for Merton & Wandsworth, who attended the rally said:
"This was a most impressive cross - party turnout in support which included, the Mayor Boris Johnson, 2 Cabinet ministers from both Coalition parties and the Government Deputy Chief Whip, as well as constituency MPs, Assembly Members and Council leaders and hundreds of local residents. The Government and the Davies Commission can have been left in no doubt about the strength of opposition in West and South West London to any extension of Heathrow Airport. We have told them in strong voice that we have the stomach for a fight."

However Sean McKee, director of policy at London Chamber of Commerce, said London is a "global city in an island economy".
In the race between European capitals to see who could connect and trade with Asia, Africa and South America, and Heathrow provided the best opportunity. Mr McKee continued:
"I think it's quite simplistic for those local politicians in west London to claim that everybody inside their boundary opposes Heathrow expansion. Overwhelmingly, our members say they want to continue flying from Heathrow because it gives them the connections they need."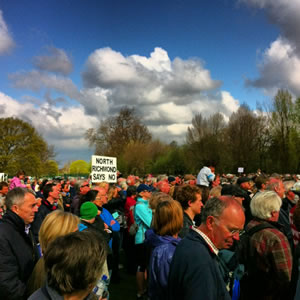 All images © Andrew Wilson (twitter.com/AndrewPics)
A commission chaired by ex-Financial Services Authority boss Sir Howard Davies, is to consider a number of options to expand capacity, including a new airport to the east of London.
The commission will report after 2015. A spokeswoman for the Department for Transport said:
"Previous attempts to tackle the question of airport capacity have failed, often due to a lack of consensus on the evidence. Our approach is to build a strong political consensus so we can plan for the future. A rushed decision is not an option."
April 29 2013